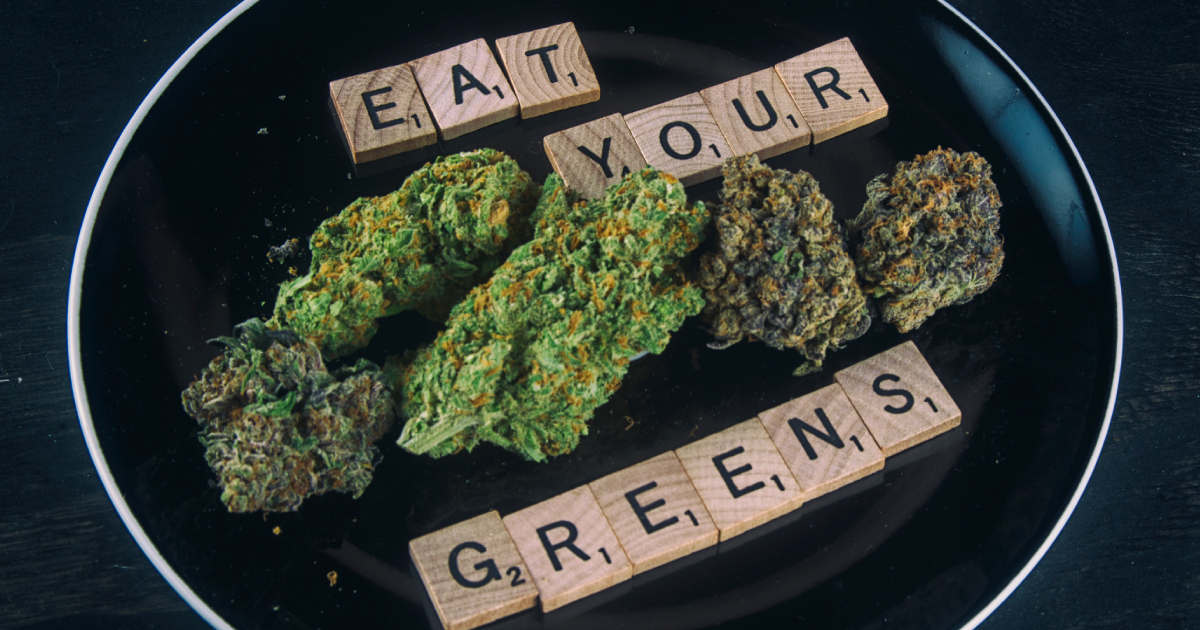 Wearing of the green is only part of the St. Patrick's Day festivities. There's green beer and parades and, of course, corned beef and cabbage. (Although, every true Irish person will tell you, they never had it as a national food. It's Irish-American, Ireland has a bacon and cabbage dish, though.) Regardless of where the traditions we have came from, it's a great day for pretending we're all Irish! Adding a bit of green to our dishes is also a great way to bump up the festivities. Here are a few yummy and green St. Paddy's Day recipes.
For Starters – Making Cannabutter
This can and probably should be done a day or two ahead, so you don't stress over all the cooking.
To make a really good cannabutter, which you will need for most of these recipes, decarboxylate your pot in order to turn the THC-A into the psychoactive THC and the CBD in the plant.
Kind Meds has a Cannabutter calculator that's really helpful. https://kindmedsaz.com/education/thc-calculator/
 Preheat your oven to 240°F.
 Break apart any large buds with your hands.
 Spread the cannabis on a baking sheet with sides.
 Place in the oven.
 After 45 minutes the cannabis should be lightly browned and decarboxylated.
Now to make the cannabutter:
Print
For Starters – Making Cannabutter
---
4

sticks Butter  (Unsalted works better)

1 oz

shake Finely ground and decarboxylated
---
Instructions
In a medium saucepan bring a quart of water to a boil. You can vary the amounts, just be sure that the marijuana is always floating about 1 ½ to 2 inches from the bottom of the pan.
Once the water boils, add the butter to the saucepan and let it to melt completely.
After the butter has melted, add the marijuana. As soon as the weed is added, turn down the heat to a very low setting, barely a simmer. Some will et the weed cook for around 3 hours. You can tell it's done when the top of the mix turns from really watery to glossy and thick.
While the cannabutter is simmering, get the bowl to hold the finished product ready. There are a couple of ways to do the straining.you can use a deep heatproof glass bowl with a fine mesh strainer lined with cheesecloth. Or you could tie a double layer of cheesecloth around a large heatproof bowl with twine, making it taut across the top.
Strain the marijuana butter over the bowl, being careful not to spill. When all is poured into the cheesecloth,, carefully undo the twine, pick up the cheesecloth from all four sides, and squeeze out all of the remaining butter.
Allow the cannabutter to cool at room temperature for about an hour. Place in the fridge until the butter has solidified and separated from the water. The THC and other properties have attached to the butter, and you are just about there.
Run a knife around the edge and lift the butter off the water. Place upside down on your work surface and scrape off any of the cooking water or put it into another cheesecloth and remove the water by squeezing it again. Your cannabuttter is ready to roll. Store in the refrigerator or freezer in an airtight container.
Notes
Now you're ready to cook yourself a dilly dilly St. Patrick's Day dinner!
Cannabis Infused Corned Beef Hash
Print
Cannabis Infused Corned Beef Hash
---
Description
You could buy the cans of already made corned beef hash, but this is so much better! Made better with cannabutter…sorry, had to rehash that old line.
---
2

Pounds cooked corned beef, cubed

2 Tablespoons

  chopped fresh parsley

1/4 Tablespoons

  dried thyme leaves salt to taste (optional)

1/2 Tablespoons

  ground black pepper, or to taste

2 Tablespoons

  cannabutter

2 Tablespoons

  canna-extra-virgin olive oil

1

Large Onion, chopped

5

Large Yukon Gold potatoes, peeled (Cut into 1/4-inch cubes)

1

Large Carrot, coarsely shredded
---
Instructions
Melt cannabutter with the canna olive oil in a large skillet over medium heat, and cook the onion just until it begins to brown, about 8 minutes.
Stir in the cubed potatoes and shredded carrot, cooking until tender, about 15 minutes, stirring occasionally.
Stir in the cubed corned beef, parsley, thyme, salt, and pepper. Let the mixture cook until hash is crisp and browned, stirring often, 10 to 15 more minutes.
Roasted Brussel Sprouts with Bacon
Print
Roasted Brussel Sprouts with Bacon
---
Description
With the corned beef hash, you might want to add a veggie, and what better veggie than a truly 'green' veggie! Be careful to keep the heat as low as possible. You do not want to let the THC get ruined by too much heat.
---
1

Pound Brussels sprouts

3

or

4

strips bacon, preferably thick-cut

4

garlic cloves (crushed)

1

small onion (chopped)

2 Tablespoons

Cannabutter or olive oil
---
Instructions
Heat cast-iron skillet on high for 5 to 7 minutes, then reduce heat to medium.
Chop or slice and add bacon.
Cook bacon for 2 minutes, then add butter or oil.
Cut sprouts into halves and chop garlic and onion.
When butter is melted, add garlic and onion and brown for 1 to 2 minutes before adding sprouts.
Place sprouts cut side down and cook for 3 to 5 minutes.
Turn over sprouts and continue cooking for another 3 to 5 minutes until browned and soft.
Turn off heat, mix in cannabutter or oil and let sit for 2 minutes to heat and absorb into food.
Notes
If you were ever on the fence regarding brussel sprouts, this recipe will probably change your mind!
"Herbed" Mashed Potatoes
Print
"Herbed" Mashed Potatoes
---
Description
Prefer a more traditional dinner? Instead of having boiled potatoes, the regular accompaniment to corned beef and cabbage, try this dilly dilly recipe.
---
Yukon Gold potatoes – (Approx 7 per person)

½

cup Parmesan cheese

2

green onions, chopped

8

oz cream cheese

4

Garlic cloves, chopped fine

1/2 Cup

Cannabis butter
Up to

1 Cup

Cannamilk (recipe below with cannacocoa)
---
Instructions
In a large pot filled with water and a pinch of salt, boil potatoes until soft
Add remaining ingredients into a large bowl and stir together
When the potatoes are done, strain them and add to the bowl, mash and mix until well mixed.If the mixture is too dry, add up to 1 cup cannamilk
Notes
Feel free to play with the amounts until you have the right mix for you and your guests.
Here is the cannamilk recipe used for the 'herbed' potatoes:
Cannamilk extraction technique
Print
Cannamilk extraction technique
---
2

cups Whole milk

¼

oz Ground weed
---
Instructions
Heat 2 cups of milk (plus a tablespoon extra) in a saucepan on low to medium. Do not let the milk come to a boil.
Add ground weed to the hot milk and simmer for 1-2 hours, stirring occasionally. Never let the mixture come to a boil.
Pour the hot cannamilk into a glass container, using a cheesecloth to strain out all ground weed from the milk. Repeat this step as necessary to strain all of the milk from the ground weed, and discard the remaining weed.
Cover the container with a lid and place in the refrigerator to allow the cannamilk to cool.
Notes
You can use 1 cup to make mashed potatoes, or another dish of your choosing.
Cannabis Chocolate Stout Cake
Print
Cannabis Chocolate Stout Cake
---
Description
This recipe is a decedent marriage of chocolate, beer and cannabis! Each of the three items is great, but the result when all three come together….. You can make this cake earlier in the day to serve at room temperature after dinner.
---
1

12-ounce Bottle stout beer (or, use

12 ounces

from a bigger bottle and drink the rest, yo)

½

Cup Light brown sugar, packed

¼

Teaspoon salt

1/4

cup Cannabutter

¼

cup Butter

4

bars (

3.5 ounces

each) 70 percent cacao bittersweet chocolate, coarsely chopped

6

eggs at room temperature

1

bar 3.5 ounces 70 percent cacao bittersweet chocolate, coarsely chopped

½

cup Whipping cream

¾ cup

Nuts, chocolate shavings or other garnish of your choice (optional)
---
Instructions
Place two racks in the middle of your oven. Preheat the oven to 350 degrees Fahrenheit. Generously grease a 9-inch springform pan and line the bottom with parchment paper. If you have any doubts at all about how airtight your springform pan is, line the outside of the pan with several layers of tightly wrapped foil.
In a medium saucepan, combine the beer and light brown sugar. Heat on medium-high, stirring occasionally, until the mixture comes to a low boil; reduce heat to simmer until mixture has reduced to about 8 ounces  of liquid, about 20 minutes. Remove from heat, and stir in the salt. Set mixture aside.
In a double boiler or large, heatproof bowl set atop a saucepan of simmering water, melt together the cannabutter, butter, and the chocolate over medium-low heat. Once melted, remove the bowl from the saucepan and transfer to a work surface.
Pour beer mixture into the melted chocolate mixture, stirring to combine. Whisk in eggs, one at a time, making sure that there are no streaks of yolk in the mixture before adding the next. Pour mixture into your prepared pan.
Fill a large roasting pan half full of water. Place this pan on the lower oven rack; place the cake on the upper rack. Bake for 45-50 minutes, or until the cake has just the slightest jiggle in the middle. Remove from the oven, and let cool completely (don't forget to remove the pan of water, too). Run a knife along the edges of the pan to loosen the cake before removing the springform sides.
Make the Ganache
Place the chopped chocolate in a large, heatproof bowl.
Pour the whipping cream into a medium saucepan. Heat over medium heat until the mixture reaches a simmer.
Remove from heat, and pour over the chocolate. Stir until creamy and combined.
Let cool slightly until it's thick enough to spread without dripping too much, and then spread over the cake, letting the chocolate drip over the sides just a little.
Garnish the cake as desired.
Be sure to wrap up any leftovers and store in the refrigerator. But serve this cake at room temperature. Enjoy your dilly dilly St. Patrick's Day!
Happy St. Patrick's Day
We hope you enjoy the dank recipes we have curated for you and that you have yourself a dilly dilly St. Paddy's Day! In the meantime, come talk to one of the friendly bud tenders at Kind Meds to get the best bud for your meal.