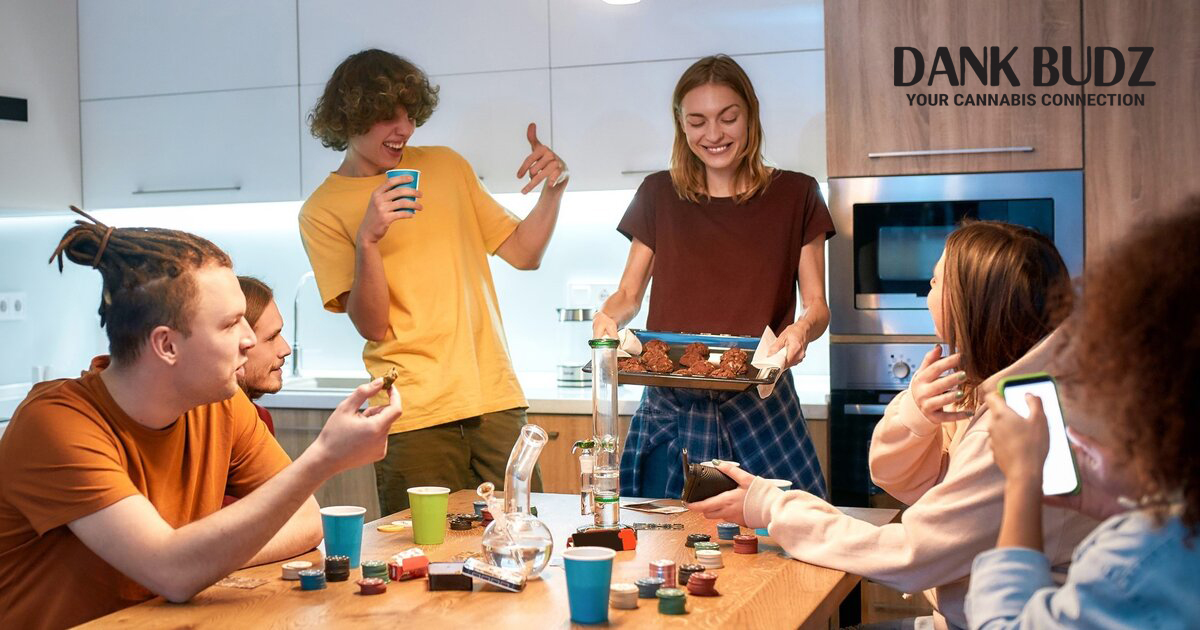 Before you delve into any cannabis recipes, you should know about decarboxylating your bud before you put it into an edible. This is important if you are using flower that hasn't been decarboxylated when purchased, or pre-made butter, as it will make your edibles much more potent. Decarboxylation is generally done through cooking the flower between 215 to 255 degrees Fahrenheit for 45 minutes to one hour.
The process is vital to getting any psychoactive effects that you want in your edibles. Almost all cannabis products are tetrahydrocannabinolic acid (THCA) which by itself has none of the effects of tetrahydrocannabinol (THC).
Jump to a Cannabis-Infused Recipe:
Vaping, smoking, or decarboxylating take away the extra carbon that is attached to THCA to make it THC—hence the term decarboxylation. If you were to cook with THCA without going through the decarb process, almost none of the psychoactive effects would be present, which is why it is done before you cook edibles.
If you don't decarboxylate your bud before you use it to cook with, you will notice almost no effect. In order to bring out the most of your edibles, you'll need to make sure to decarboxylate them.
Here are a few ways you can decarboxylate your cannabis at home.
How to Decarb Cannabis
Print
Decarb Cannabis Using an Oven
---
Description
When using your oven to decarboxylate your cannabis, it's important to know that the dial and temperature are not always accurate. Many ovens fluctuate about 20 degrees and this can cause burning or a lack of decarboxylation of the THC. We're primarily concerned with burning, as most of the THC will be lost if that is the case, and it is unsalvageable, so if you smell burning, turn down the temperature of the oven.
---
Baking tray
Aluminum foil or parchment paper
Cannabis
---
Instructions
Make sure you have your oven rack in the center of the oven where you are going to place your baking tray, before setting the oven temperature to 225 degrees Fahrenheit. You want to make sure it is in the optimal position so it doesn't burn and that it cooks evenly.
Cut or tear a piece of aluminum foil, big enough to fit on your baking tray, then use it to cover your tray. The tray will usually get hotter than the air in the oven as it conducts heat better. The aluminum foil or parchment paper will prevent direct contact with the tray.
Gently break up the cannabis flowers into rice grain-sized pieces. Too fine of a grind will cause burning, so make sure not to make them too fine. Place the cannabis pieces on the foil-covered tray and stick it in the oven.
When 45 minutes are up, remove the baking tray from the oven and let it cool for about 30 minutes. At this point, the cannabis should look slightly golden-brown in color.
Your cannabis at this point is decarboxylated and is ready to be stored to be used for future cooking later.
Print
Decarb Using a Mason Jar
---
Description
There are many reasons why you might want to choose using a mason jar over an oven for your decarb process. There is significantly less cannabis smell using a mason jar and you can take advantage of the fact that it is contained within a jar, to help supplement your infusions later. Many terpenes of the flower will stick to the jar during the evaporation process, making it perfect if you decide to use the same jar for your infusions later. You are also significantly less likely to burn your cannabis during the process.
---
Mason jar with lid
Baking tray
Kitchen towel
Cannabis
Oven mitts
---
Instructions
Set your oven rack in the middle of your oven and set the temperature to between 220 and 240 degrees Fahrenheit.
Break up the cannabis flowers into rice grain-sized pieces, put the crushed pieces into the mason jar, and gently screw the lid on.
Dampen the kitchen towel and lay it on the middle of your baking tray facing sideways. This will prevent it from rolling around, and give the jar better heat distribution.
Place the tray in the oven for 60 minutes. Every 15 minutes or so, take out the jar using your oven mitts and lightly shake it to disperse the cannabis evenly within the jar. This will ensure that as much of the flower as possible gets decarboxylated.
After the 60 minutes are up, take it out of the oven and let it cool for 30 minutes before storing it for later use.
Notes
Now that you are an expert on decarboxylation, we can move onto the fun stuff: cannabis infused recipes!
Almost all of these recipes use pre-decarboxylated cannabis as their base, and require about 7-10 grams, but you can always dose them how you'd like.
How to Make Cannabutter
Once you decarb your flower you can then turn your flower into a butter or oil. Here are our favorite recipes and methods!
Print
How To Make Cannabutter on the Stovetop
---
Description
If you are looking to make brownies, or want to bake using your cannabis, making it into a butter or oil is the universally accepted method that enables you to use it in almost any recipe. This is a slow cooker marijuana recipe, but you can use other methods such as simmering it on a low temperature on a stovetop. We'll go over a few methods for you here, and the general process. It's recommended that you use pre-decarboxylated cannabis when you make your butter, but you can typically use non-decarboxylated cannabis if you know how to modify the cooking time accordingly.
Here are a few ways you can start making cannabutter at home and what you'll need to do it.
---
1 Cup

Butter (Original butter works best over imitation butter)

1 Cup

or

7

–

10

grams ground decarboxylated cannabis
---
Instructions
Decarb your cannabis. Make sure that the cannabis you are using is decarboxylated. It's often missed when people first start to try to make edibles, but it is a vital first step that should be done before you cook with it.
Grind your cannabis coarsely with a hand grinder or other tool.
Put your skillet on the stove and slowly melt the butter. You'll want the temperature to remain above 160 degrees Fahrenheit, but never exceed 200, to prevent burning or boiling. It's best to use a thermometer to manage the temperature as you cook.
Add your cannabis as the butter begins to melt.
Simmer for 2-3 hours while maintaining the temperature between 160 and 200 degrees. Stir it occasionally and ensure that it never comes to a boil during the process.
After 2-3 hours, wait for it to cool slightly before straining the butter over cheesecloth, into a jar, using a funnel.
Refrigerate the jar of butter to use at a later date. Water will likely appear once the butter starts to solidify. Scrape out the solid butter with a knife or other utensil and drain the water. You can now store and use your cannabutter whenever you want to cook with it.
Print
How To Make Cannabutter in the Slow Cooker
---
---
Instructions
Coarsely grind your pre-decarboxylated cannabis with a hand grinder.

Set your slow cooker to low or between 160-200 degrees Fahrenheit, never exceeding 200 degrees, to avoid scorching.

Add the butter and cannabis while occasionally stirring.

After roughly 3 hours, turn your slow cooker off and strain the butter.
Notes
Remember to always dose accordingly. There are many factors that go into the potency of the cannabutter, so try to test a small amount on a snack (somewhere around one quarter of a teaspoon) to see how potent it is before you cook with it.
Cannabis Infused Recipes
Here are some of our favorite cannabis friendly recipes for your next dank party!
Print
The Best Cannabis Infused Brownies
---
Description
Everyone who has once thought of trying edibles has likely thought of the famous pot brownies. They are a staple of the marijuana community even if you're not into edibles, and for good reason. The flavor of cannabis accentuates the chocolate in the brownie, and in many cases, the cannabutter makes for a much better replacement over the normal butter.
---
1

stick unsalted butter

1/4 cup

cannabutter ((See cannabutter recipe above))

12 oz

bittersweet chocolate, coarsely chopped

1 cup

packed light brown sugar

3/4 cup

granulated sugar

1 tsp

fine sea salt

4

large eggs

2 tsp

vanilla extract

3/4 cup

all-purpose flour
---
Instructions
Once you have your cannabutter made, you're ready to make brownies. Position the oven rack in the middle of your oven and preheat it to 350 degrees. Lightly butter or grease a 9-by-13 inch baking pan.
On low heat in a medium-sized saucepan, melt the butter, cannabutter and chocolate until it has just about melted. Add the brown sugar, granulated sugar, salt and vanilla to the saucepan. Stir the mixture and remove from the heat as the chocolate should melt from the residual heat.
Whisk the eggs and vanilla in a large bowl until foamy.
Pour and whisk the warm chocolate mixture into the eggs. Make sure that your chocolate is not too hot as it might scramble your eggs in the process. You should be able to touch the chocolate mixture without it being uncomfortable.
Whisk in the flour and continue to mix until fully combined with no clumps of flour remaining. Pour the batter into the lightly buttered or greased pan and put it into the oven for 20 to 25 minutes. Remove and let them cool once they are done.
Print
Cannabis-infused Gingerbread Pancakes
---
Description
Ingredients:(makes roughly 10-12 pancakes 2-3" in diameter)
---
½ cup

gluten free baking flour

¼ cup

brown rice flour

¼ cup

raw coconut flour

2 tsp

baking powder

½ tsp

sea salt

1 tbsp

powdered ginger

1 tbsp

dry ground cannabis flower

1 cup

hemp milk

¼ cup

water

1

flax egg

2 tbsp

blackstrap molasses

2 tbsp

cannabis-infused coconut oil, melted
---
Instructions
Mix all the dry ingredients (flour, ginger, and ground cannabis) into a bowl and set aside.
In a medium-sized bowl, mix flax egg, water, hemp milk, molasses, and infused coconut oil.
Gradually combine the dry ingredients into the wet ingredients, stirring occasionally. Once completely mixed, the batter should still be slightly runny.
Grease or butter your pan (you can use cannabutter or canna oil for added effect) and warm it up over medium heat to melt the oil.
Once melted, lower the heat to medium-low.
Scoop roughly one tablespoon of batter into the hot pan.
Cook for about 3-5 minutes or until edges are bubbly and firm before flipping over, and repeat until brown on the other side.
Serve them hot!
Print
Mary Jane's Medicated Barbeque Sauce
---
1

onion medium, finely chopped

1 tablespoon

garlic minced

¼ cup

cannabis infused vegetable oil

2 tablespoons

chili powder

½ teaspoon

ground cumin

2 teaspoons

black pepper

¼ teaspoon

cayenne pepper (optional)

24 ounces

ketchup 1 bottle

1 cup

dark brown sugar

¼ cup

apple cider vinegar

¼ cup

mustard, yellow or brown

¼ cup

Worcestershire sauce

1 teaspoon

liquid smoke
Salt to taste
---
Instructions
Heat oil over medium-low heat in asaucepan.
Add onion and cook and stir untilsoftened (roughly 3 minutes).
Add in the garlic and let it cookfor a minute with the onions, before stirring in the chili powder, cumin, blackpepper, and cayenne.
Add in the ketchup and remainingingredients.
Simmer while stirring frequently,and cook uncovered for about 20 minutes. Stir the mixture often to preventburning.
Store and refrigerate for use later.
Print
Slow Cooker "Baked" BBQ Beans
---
Description
It's always nice to have something you can throw in the crockpot for a party. You can cook your food and keep it warm for your guests with these slow cooker beans!
---
1

pound dried white beans. Navy, great northern, or any other kind ofwhite bean.
Water

2 tablespoons

salt

½

pound bacon, diced

1

onion large, yellow or white, diced

1

jalapeno pepper large, cored, seeded, and minced

1

bell pepper small, any color, cored, seeded, and finely diced

1 tablespoon

garlic, minced

3 cups

chicken or turkey stock

2 cups

Mary Jane's BBQ sauce (see recipe link above)
---
Instructions
Cover the beans in a couple of inches of water in a large container. Stir in salt and let it soak overnight at room temperature. Strain and rinse beans.
Graba medium pot and heat it over medium-high heat. Add the bacon and let it cook until the fat has rendered and the bacon starts to crisp (about 5 minutes).
Add the onion and let it cook while stirring occasionally, until the onion has started to brown around the edges(about 5 minutes).
Add the jalapeno, bell pepper, and garlic while stirring for another two minutes.
Put the contents of the pot into your slow cooker. Add the drained beans, chicken stock, and barbeque sauce, and stir to mix. Set your slow cooker to high and cook for 6 to 8 hours or until beans are tender.
Print
CBD-Infused Barbeque Ranch Dressing
---
1 ½ cups

vegan mayonnaise

1 ½ cups

vegan plain unsweetened almond milk yogurt

1 ½ cups

cups regular unsweetened almond milk
A loose

1⁄4 cup

each of fresh parsley, dill, and chives
Salt / black pepper to taste

½ cup

vegan barbecue sauce

2 tbsp

garlic powder

2 tbsp

onion powder

1

–

2

tbsp crushed red pepper flakes

3

–

5

tbsp distilled white vinegar to taste

3

droppers full of the Dank Budz Broad or Full Spectrum CBD Oil
---
Instructions
Chop up the parsley, dill, and chives before adding all of the ingredients, besides the almond milk, CBD oil,and vinegar, into a bowl. Whisk well until everything is incorporated.
Add in the almond milk, vinegar, and CBD oil slowly. When adding the almond milk and vinegar, start with less at first, and add more until it reaches the desired thickness and tanginess.
Store in the fridge for up to a week.
Feel Free to Get Creative with Your Cannabutter, Cannoil and CBD Oil

The glorious thing about knowing how to make cannabutter and cannaoil (or use a premade CBD!) is once you have that technique down, you can use your butter or oil in almost any recipe that calls for one or the other.
You can easily replace a portion of butter or oil in any recipe to make it into your very own cannabis-infused edible. So don't be afraid to get creative in the kitchen and experiment with various types of canna-infused recipes.
Get dank with it!