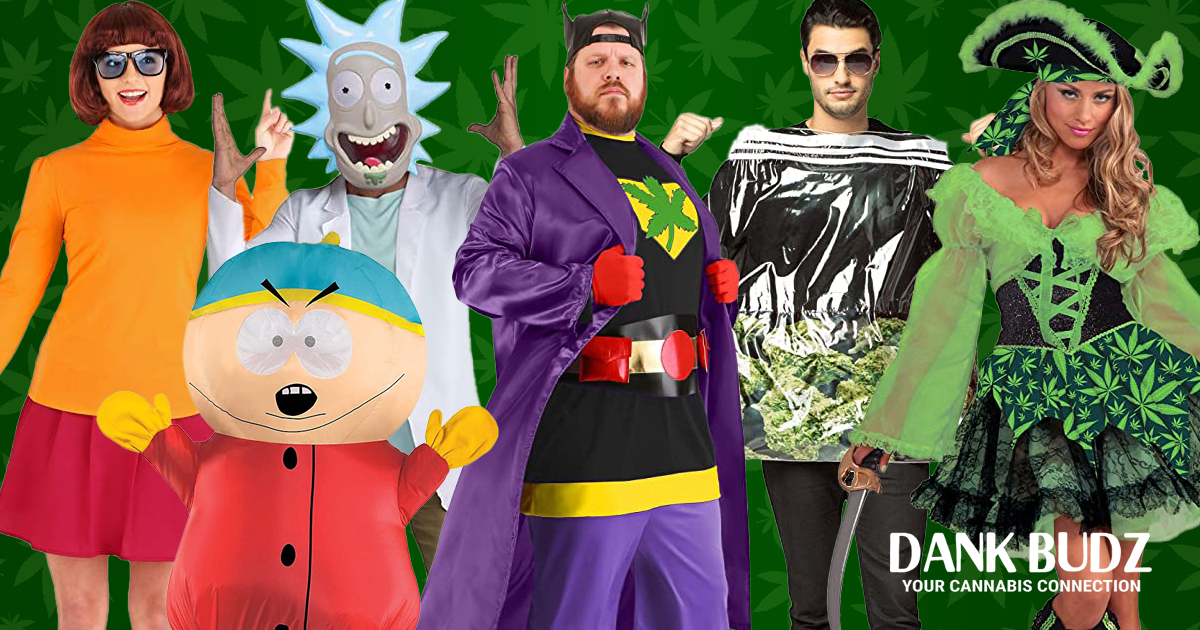 Making a purchase through a link on this page may earn us a small commission. Learn More.
It's never too early to start planning your Halloween costumes — even if it's November 1st! With marijuana reaching more acceptance both socially and medically, people are becoming more and more open about cannabis use and its myriad benefits. With that in mind, Halloween just got even MORE fun with HIGHlarious stoner Halloween costume ideas.
No matter what weed vibe you're going for, we have you covered like a rolling paper for the spookiest night of the year!
Dank Couples Halloween Costumes
Do you love cuddling up with your significant other, having some edibles, and binge-watching Weeds? You can share your mutual affection for cannabis and each other with matching costumes. No lover in your life? That's okay! Your "best bud" can easily help create these dynamic duos with you!
Doctor Ken Abyss and Nurse Mary Jane. These costumes are just what the doctor prescribed. For those ladies who don't want to wear a tight "sexy nurse" costume, get some scrubs and paint on a green cross and voila – comfy costume!
Jay and Silent Bob. Ladies, ladies, ladies – Jay and Silent Bob are in the hizz-ouse! What's fun about this stoner duo from the minds of Jason Mewes and Kevin Smith is that it's easy to put together. Yellow jacket, black track pants, black shirt, long blonde hair wig and beanie for Jay; black/dark green trench coat, jeans, comic book or black t-shirt, long black hair, beard, and black backwards baseball cap for Silent Bob. These items are easily found during a thrift shop hunting trip. Bonus points if you dress up as their alter-"weedgos," Bluntman and Chronic!
Rick and Morty. Embraced by marijuana enthusiasts, the cartoon Rick and Morty is super fun to watch while stoned. It's no wonder finding grinders, bongs, pipes, and other Rick and Morty-inspired weed accouterment is easily done in any dispensary. Rick himself makes no secret of his affinity for drugs. While most of what he imbibes has a fun alien-sounding name, we'd be willing to bet he likes a regular Earth-grown joint from time to time.
His and Hers Shiver our timbers, what a cool-looking twosome! Put the "high" in "high seas" with these weed-print pirate get-ups. Make sure you don't plunder anyone else's stash though – that's a major party foul that'll get you sent to the brig for mutiny.
Marijuana Themed Costume Ideas for Groups
If you have 3 or more people in your Halloween posse, then puff-puff-pass and go out dressed in these cool group costumes:
Towelie, Randy Marsh, and South Park personalities. This group costume is perfect because, with South Park's long list of characters, it's easy to get a whole bunch of people in on the action. Towelie is the first stoner character with his memorable catchphrase "I have no idea what's going on…" In more recent seasons, Randy Marsh started his own pot farm called "Tegridy Weed" with his wife and kids, Stan and Shelly. From those main weed-centered characters, you easily branch out and have a bunch of characters from which to choose.
Scooby Doo and the Gang. Scooby Dooby Doo, where are you? Winning the next group Halloween costume contest! While the show never expressly showed Scooby, Shaggy, Daphne, Fred, and Velma partaking in ganja, Shaggy wasn't exactly keeping it a secret with the stoner mentality, "Scooby Snacks" and munchies. Amazon has some choice Scooby Doo costumes, as does any major Halloween costume store (like Spirit or Halloween Express) or you can go thrift store searching for a homemade outfit. End result? Awesome group costume. Zoinks!
Weed Paraphernalia. The great thing about Halloween is that you can let your imagination run wild and be anything you want – even objects, like this group did. A Bic lighter, a grinder, a pack of Marlboros, rolling papers, and a bag of weed all complement each other and can stand out on their own. Maybe add to your group dynamic with people dressed as a bong or a pipe – the applications are limitless.
Weed Costume Ideas for Men
Bear in mind, many of these costumes can also be "unisex" but are delineated as "men" and "women" on most Halloween websites.
Willie Nelson. Another iconic figure from marijuana culture is the "On the Road Again" iconic country music singer/songwriter, Willie Nelson. A blonde braided pigtail wig with a red bandana, an old guitar, denim shirt, and a beard and you're ready to go. This costume serves as a "twofer" because Nelson himself grows his own strains of Mary Jane for sale and is a huge legalization of cannabis advocate, citing that it's not a drug but rather a plant. Do the man proud and spread his message with this homage.
Snoop Doggy Dogg. Snoop is one of the more famous rappers in the world, especially since most of his songs are about smoking ganja and hanging out. Go fun with it and maybe have a friend dress up as Martha Stewart (making this a great couple's costume idea as well). While you're at it, check out his cookbook, From Crook to Cook, to get a really "dope" brownie mix with Snoop's "special herbs and spices" to eat before you go out.
Weed Itself. Sometimes the simplest solution to your Halloween quandary is the best solution. As we've seen in the group costumes, you can actually dress up like a bag of weed, a blunt, a spliff, or any incarnation of the plant. Group or solo – you won't have anyone wondering what you are.
Cannabis Halloween Costumes for Women
Last but certainly not least, we have the ladies! Let your pot flag fly proudly this Halloween with a multitude of amazing costumes to choose from:
Have A Dank (but Safe!) Halloween

Whether you're sitting at home watching scary movies on October 31st, going trick or treating with your kids, or going to a party/get-together, Dank Budz wishes you a safe, happy, and chilled-out Halloween.
Make sure to visit us on our Twitter, Instagram, YouTube, or Facebook  and don't forget to tag us in your weed themed Halloween costumes. We can't wait to see what high-larious and creative ideas you come up with budz!