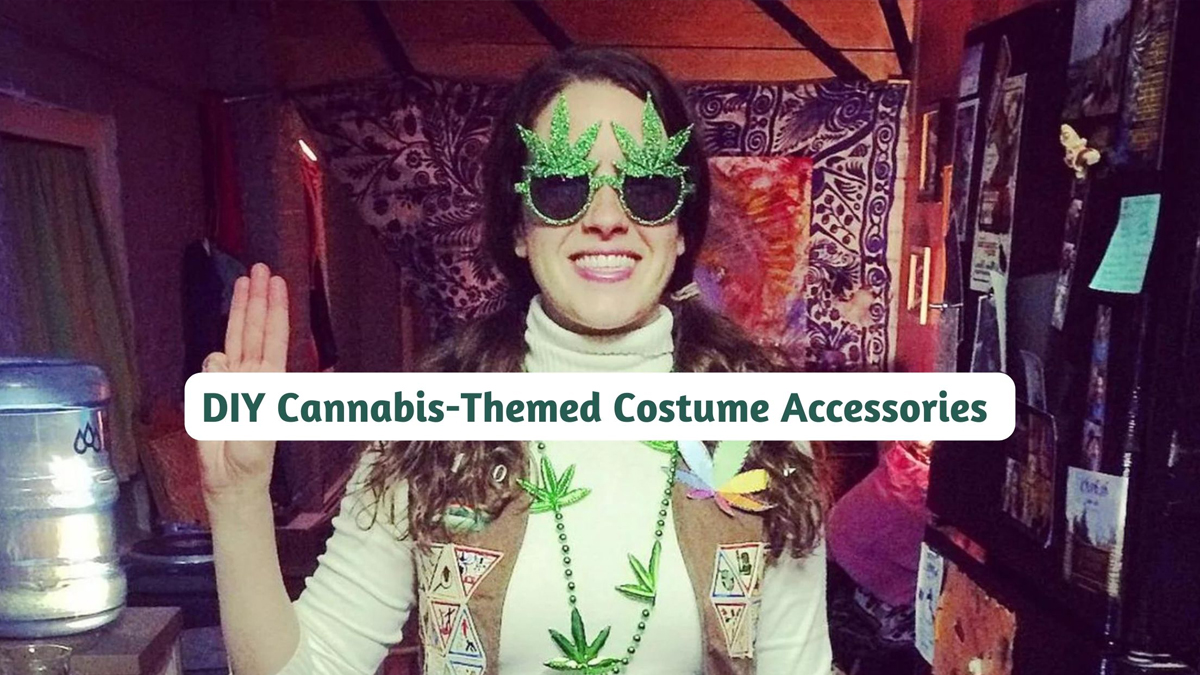 The leaves are beginning to change color, the darkness is settling earlier, and the temperatures are beginning to cool. All of these signs mean Fall is here. It's time to get out the rakes and the sweaters and get ready for pumpkin-spiced everything – or even contemplate sitting outside with friends around a fire or sneaking in one last BBQ.
The great thing about all the cozy fall activities you'll take part in this time of year is that they can help you forget about all the decisions you have to make regarding your work and allow you to find peace of mind. This is especially true if you're accustomed to relaxing around the fire pit or enjoying the cooler weather with your favorite strain of cannabis. Unfortunately, though, there is still one important decision to make this time of year: you must decide how you are going to reinvent your weed costume this Halloween.
You're sure to make a statement no matter which of the many weed Halloween costumes you choose, but making your own costume or accessories takes your stoner Halloween up several notches. Last year, we shared several marijuana Halloween costume ideas, and they're just as great this year. If you want to rock one of these cannabis costumes with your own unique flair, consider elevating the idea to new "highs" with these awesome weed costume accessories.
Marijuana Themed Headband or Crown
Whether you are planning to be the weed boss babe, the queen of cannabis, or even the next Miss Marijuana, you can sit atop your throne in style with the perfect headband or crown. These easy-to-make accessories take only 45 minutes or so to create from start to finish and make for a fun project while indulging in a creativity-boosting strain. All you need is some floral wire, floral tape, a pair of wire cutters, fresh flowers or greens of your choosing, and a bowl of your favorite bud.
To assemble, follow this simple process:

Measure the wire by wrapping it around your head in the place where you would like to wear it. Add an additional 1 to 2 inches and cut the wire. Tape the wire in a circle using the floral tape.
If you want a more natural feel, continue wrapping the floral wire around the wire.
Cut the stems of the flowers so that it is about 1 – 2 inches in length.
Lay the flowers on the crown where you would like, and sprinkle on a few nuggets of your favorite cannabis. Tape it all down.
These crowns are easy enough to make as-is, but if you want an even simpler process, you can use adjustable material and glue to secure your marijuana greenery. Add artificial cannabis flowers to this crown and you have a unique style that will be the talk of the party. Not to mention, you'll be the only one with a smokeably stunning accessory.
The Canna Doctor (Or Nurse) Is In
You may not have a medical license, but for one night, you sure can pretend. Take your fictional medical marijuana practice to a new level with a lifesize medical marijuana card. With some poster board, markers, a ruler, and a pair of scissors, you can create a fun way for you and your friends to remember the next Halloween party. Whether you are diagnosing patients who need medical marijuana cards or you have the prescription everyone is looking for, you'll be everyone's favorite medical practitioner.

Using the ruler, cut out a 12 x 12" square on the right side of the poster board, leaving a small border on the edge.
Using Google, look up the design of your local medical marijuana ID card. Recreate the ID on the poster board using your favorite numbers and stoner name. Be sure to use Halloween (or the date of the party) for the diagnosis.
Finally, start diagnosing. Walking around the party, you can have people hold up the poster board with their faces in the square cutout. Instant photo opportunity to share on social media or with your friends.
If you want to take this costume a step further, fill an old prescription bottle with your favorite cannabis products for safekeeping and easy access throughout the party. Add a personalized label with just a printer and some glue or tape.
Ankles or Thigh Highs?
Socks aren't just for comfort, they also help add color and style to any costume. For costumes like Velma, the Big Lebowski, Hunter S. Thompson, or Troop 420 Girl Scout, socks are a must. As The Dude would say, "It really ties [it all] together." Those socks don't have to be boring or predictable: show off your style with your own customized cannabis foot cushions.
Create or buy a stencil of a marijuana leaf by tracing an image from the internet (or an image from some cannabis merch you already have on hand) onto some notebook or typing paper. Then, trace this image onto a piece of pliable cardboard, a milk jug, or other heavy but flexible material.
Use an exacto knife to cut out the image, then cut around your stencil, leaving a few inches of material on each side.
Place the stencil in various places around a sock of the height you prefer, and paint marijuana leaves on the sock using fabric paint.
Consider creating various sizes of stencils to add a different effect to your custom footwear. Or, create patterns with your leaves, like rows, polka dots, or clusters.
This same approach can be used with leggings or stockings for all the Weed Boss Babes and Poison Ivys this Halloween.
Alright Meow
Super Troopers has many iconic stoner lines that you can recite all night long. But when you dress up as your favorite law enforcement officer, you are forgetting about one major perk of the job: all the confiscated cannabis.
No drug bust is complete without the product to prove it. And while you may not have pounds of cannabis lying around, you can make it look like it. With just a few items similar to making your own bag of weed costume, you can have an awesome prop to carry or create multiple props for awesome party decor; all you need is a shoebox, fake moss, green foam paper, some glue, and plastic wrap.

Glue the foam paper around the shoe box and let it dry.
Then, cover the foam paper with glue and attach the moss to the outside of the box. Be sure it is in an even layer so you can create the "brick" look later.
Wrap the plastic wrap around the moss, making it tight as you wrap. Keep wrapping until you have several layers, both length and width-wise. The box should feel solid and look like a solid brick.
If you want, print or buy custom stickers to put on the end to mark your product.
Stacking these on your food table at your next party not only adds a unique look but is a great way to display all your favorite edible treats. You can also try hiding some of your favorite products inside the shoe boxes and create your own game of "Hide-and-Seek" with your friends. Someone may be lucky enough to find the prize.
"High"-line Bling
Whether you're dressing as Snoop Dogg, Willie Nelson, or the hippie chick who loves their music, one thing is for certain: you need some bling to appreciate how they sing. But while each has its own unique style, you can find plenty of ways to "weed-dazzle" your favorite costume necklaces, bracelets, or rings.
Here's how to make it pop with fresh flowers and greens.

Measure a piece of string a little longer in length than your necklace or bracelet.
Using strong tape, drops of glue, or another adhesive, attach flowers, greens, or a combination of each to the string as compact or spread out as you would like.
Once the adhesive has taken effect, tie one end of the string to the end of your necklace or bracelet.
Wind the string around the necklace or bracelet a few times until it meets the other end of your jewelry.
Tie the string off so it is secure.
Put the jewelry on and show off your love of music.
It may be just as easy to buy a marijuana leaf pendant, but this custom jewelry can modify any jewelry you already have, and you can adorn it with your favorite flowers, leaves, or buds.
Business in the Front, Party in the Briefcase
You may not be carrying a pail for candy, but your costume might need a briefcase, particularly if you dress as Hunter S. Thompson or as your alter-ego business personality: 'Weed.' If you've chosen either of these costumes, your costume deserves far more than just any briefcase: it deserves one that not only completes the look but signifies that you're the life of the party. After all, a briefcase isn't much without the goodies inside.
Create your own canna-case with a few simple steps:

Pick up an old briefcase from the thrift store.
Create a stencil of a marijuana leaf out of cardboard, a milk jug, or another sturdy product. Create different sizes for a greater effect.
Lay the stencil in various places around your briefcase and paint multiple leaves all over.
On the inside, using a stapler or small tack nails, line your briefcase with a white sheet or pieces of a pillowcase.
Using your stencils, paint leaves around the sheet.
Once dry, fill your briefcase with plenty of your favorite cannabis brownies and be ready to share.
Your briefcase can be used for any number of party favors or filled with fun to be had throughout the night. From form to function, this accessory not only brings your costume to life but helps you bring more life to the party.
High Dyed
There are plenty of costumes that could use a little color. From a hippie to Willie himself, tye-dye effects bring vibrancy to your Halloween costume. With this easy process that you can do right at home, you'll have a psychedelic new shirt in just a few easy steps:
Decide what type of clothing you want to dye, whether it's a scarf, shirt, bandana, or something else. You'll need an all-white version of this piece.
Place fabric dyes in plastic containers that are deep enough to submerge the product. Alternatively, you can place dye in squirt bottles or spray bottles.
Using rubber bands, take pinches of the fabric and tightly wrap the rubber band around each pinch. The rubber band should be as tight as possible.
Repeat until you have created several different bunched sections in different patterns.
While wearing rubber or latex gloves, dip each section into a different color dye and let the excess drip off. Or, add dye to the shirt with a spray or squirt bottle.
Once the shirt has been dyed all around, let it dry.
Wash according to the dye package instructions and hang to dry.
Other Funny Dank Halloween Costume Ideas
If you're not going to go to the trouble of making your own cannabis themed Halloween costume, there is still plenty of time to shop online. Check out our High-larious Marijuana Halloween Costume Ideas over here, most of which you can order on Amazon.
And, as a bonus, here are some other funny stoner Halloween costumes and accessories you can make if you're crafty… or just lol at now, because some of these are crazy (I love stoners!!).

Pot Head

Bag of Weed

Bong
Don't forget to tag us in all your favorite weed-themed costumes and show us all your blazing Halloweed accessory and consume ideas!