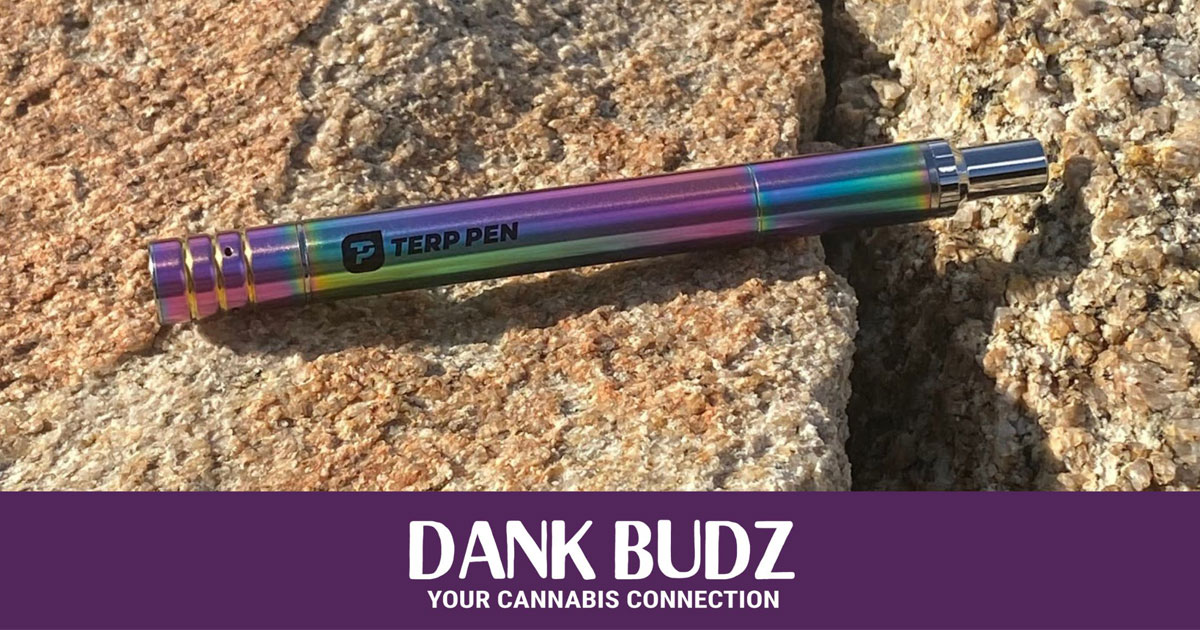 Making a purchase through a link on this page may earn us a small commission. Learn More.

The world of cannabis products is constantly growing and changing. As more states begin to legalize the use of cannabis products for both recreational and therapeutic use, I'm excited to note that the market for clean, efficient, effective tools continues to expand. In recent years, I've noticed that portable vaporizers have become extremely popular because of their accessibility and variety of flavors. In particular, vape pens have become a favorite method of consuming cannabis because of their ease of use and powerful high.
As a center for cannabis culture, the editors at Dank Budz are always on the hunt for new cannabis accessories. With the variety of products on the market currently, I know there are endless new devices I might like, but I find myself circling back to the Boundless Terp Pen. That might be in part due to the mistakes I made with my first purchase, that led me to buying a second- and the fact that I really wanted to get things right the second time around.
Despite a little bit of maintenance required to ensure the device doesn't get clogged up, I've found that it's supremely simple to us. But, since I had to learn some things the hard way, I thought I'd share my tips with you.
If you're thinking about picking one up, here are some things you should know:

What Is a Terp Pen?
Terp pens, also referred to as dab pens or wax vapes, are a relatively new cannabis device compared to hand pipes, bongs, and the like. They're designed to allow users to consume cannabis concentrates easily and on the go. Better yet, you can use just about any concentrate you like.
Other products vaporize cannabis concentrates or flower. However, there are differences regarding dabbing concentrates vs. smoking flower. For example, to dab, you need a rig, a nail, and a torch at minimum. By contrast, terp pens are designed to be small, sleek, and simple – for the most part, you'll just dip the tip into your concentrate and draw. If you want to vape flower, however, that calls for a dry herb vape device.

Boundless Terp Pens
I love the ease of using terp pens, and one of the best on the market right now is the Boundless Terp Pen. In fact, there are currently two terp pen models available from Boundless. Both the Terp Pen and the Terp Pen XL offer amazing options to help personalize the cannabis experience.
I've found that the key to a great experience with the Boundless Terp Pen is what concentrate you use and how often you clean the coils. Read on to learn more.
Boundless Terp Pen
Of course, this is the original Boundless Terp Pen. We love its simple and sleek design, with no buttons or flashy attachments to draw the eye. This terp pen is slightly larger than a traditional vape pen, at just over five inches tall and a half inch across. The body of the pen is made entirely from medical-grade stainless steel, and it runs fully on a USB-rechargeable battery – no butane torches are needed.
The exposed coils at the tip of the Boundless Terp Pen make it easy to dip into concentrate for a quick, direct hit, but I found you can also preload concentrate into the tip to have a hit ready while on the go. The pen heats up instantly as soon as you draw, so there are no buttons to push and no need to wait around for the next hit. I love the ability to simply inhale and let the pen do all the heavy lifting, which is also why I generally like pre-filled vape pens. However, vape pens can get pricey quick, whereas concentrates can be a bit more affordable in comparison,

I also love how affordable the Boundless Terp Pen is and how it's easier to use than a dab rig. Also, I like the design and color variety. It comes in black, silver, and teal color options – but they also have a limited edition rainbow chrome finish (as shown in the videos and pictures) as well as Breast Cancer awareness version that can be ordered in pink or blue.
A WeedCon Cup 2022 winner and a Dank Budz recommended product, the Boundless Terp Pen will fit most casual cannabis users' dabbing needs.
Boundless Terp Pen XL
The Terp Pen XL is another incredible offering from Boundless. Like the original Terp Pen, the XL is made of 100% medical-grade stainless steel for a sleek, clean look. It is also portable, though just a bit larger than the original Terp Pen. At almost six inches tall, it will fit in a pocket or bag the same way a typical pen might.
Unlike the smaller and simpler Terp Pen, the Boundless Terp Pen XL has temperature controls that allow you to personalize each hit you take. With a simple tap of the finger, it was easy to cycle through the low, medium, and high settings to get exactly the hit you want out of our cannabis concentrates. It's all up to the user with this pen – the chosen heat setting and whether you preload the cap will determine the type of hit each time.
In fact, once you choose an ideal heat setting, using the Terp Pen XL is as simple as removing the cap and inhaling. Like its smaller counterpart, I love that the Terp Pen XL offers quick charging and an instant heat-up with no need for butane torches.
Boundless Terp Pen Tips
Learning a new cannabis device can be tricky, no matter how much of an expert you are. Thankfully, with a little care, I discovered that the Boundless Terp Pens are so easy to use that anyone can be an expert in record time. There are two primary ways to use the Terp Pen: either dip or dab.
Dip
Dipping with the Boundless Terp Pen is fairly simple. First, you'll need to remove the magnetic cap that covers the coils so they can access the concentrate. Then, inhale to activate the instant heating function of the coils – you'll see a small LED light under the mouthpiece when the sensor has been activated. As you inhale, you'll dip the coils into your concentrate, making sure that the coils are not totally submerged but just covered at the tip. This method provides you with a strong hit of your favorite concentrate.

Dab
If you're like me and prefer to preload and have a hit ready whenever you want it, then it will be best to dab. To do this, you'll again remove the magnetic cap and find the dab tool that is included in the package. Using that tool, apply the concentrate directly to the coils. You can either take the hit right then or have the coils preloaded for the next time you want a hit. This method does not provide as strong of a hit, but I noted that it does offer some outstanding flavors from your concentrate.

Bonus: Water Pipe Use
A surprising bonus feature I also love about the Boundless Terp Pen and Terp Pen XL is that they easily fit into almost any 10mm water pipe. To use this feature, all you need to do is attach the pen to a water pipe, load it, and take a hit.

Choosing Cannabis Concentrate
So, what concentrates can be used with the Boundless Terp Pens? Well, not all concentrates are created equal, but most are compatible with the Terp Pens. In fact, the Boundless website states that the Boundless Terp Pen or XL can be used with any type of concentrate.
Here are a few of my favorites:

Shatter – this crystal-clear concentrate is strain-specific and brittle enough that you can break it into small shards for easy vaporization.
Rosin – Rosin is harvested from fresh-frozen cannabis flower to preserve the full terpene profile, which is ideal for a Terp Pen.
Wax – this thicker extract is obtained by using a solvent to strip the cannabinoids and terpenes from the plant matter, and its texture makes for a quick, easy dab
Budder and Badder – these extracts are created when shatter is melted down and whipped or beaten to various consistencies, ideal for dipping.
Personally, I found that the "runnier" versions of concentrates tend to clog the coils up quicker, so I suggest a firmer consistency to avoid clogging up your pen. I would avoid oils and distillates for this reason. If you want to use oils and distillates, you might want to try a vape pen instead.
Long-Lasting Coils for Your Terp Pen
One concern that many users of the Boundless Terp Pens have is how long their coils will last. From my experience, and according to Boundless itself, there is no set time frame for when the coils in a terp pen should be replaced because the replacement frequency will depend on several different factors, including frequency of use, type of concentrate, and more. The company suggests changing the coils every two to twelve weeks.
Several factors can impact how often your coil needs to be changed. If you're a regular and use your pen more than a couple of times a day, then you will likely need to replace your coils every four weeks to ensure you are getting the best hits possible. If you care for your pen well and are intentional about keeping it clean and well-maintained, then you will likely be able to replace the coils less frequently. One of the key ways I use to determine that the coil needs to be changed is when I start to notice the quality of the hits declining.

What to Do If Your Terp Pen Isn't Hitting
While I've had a fairly seamless experience while hitting the Boundless Terp Pen, if yours isn't hitting, there may be a variety of reasons. As previously mentioned, there may be a problem with your coil, the pen may have been damaged in some way, or it could be clogged. Fortunately, these things can all be fairly easily remedied if you take a few moments to become familiar with the pen. So, take the time to read the directions and once you are familiar with your terp pen, replacing a coil or clearing a clog is simple. Still, if your terp pen has been damaged, then it may need to be replaced.
Another reason your terp pen may not be hitting is if it is not fully or properly charged. In my experience, the Boundless Terp Pens only take about 45 minutes to charge fully, and each charge can last for as many as fifty pulls. If the LED light near your mouthpiece has started blinking, that is an indication that your pen needs to be charged.

How to Stop Your Terp Pen from Clogging
No matter what concentrate you use, it is possible for the Boundless Terp Pen to get clogged. Fortunately, I found that this does not happen as frequently when using a firmer consistency form of concentrate and by cleaning it after every use.
Boundless has anticipated this issue and provided a nifty little tool to help. Each terp pen comes with a small brush, which I use to clean out the coils and surrounding area to ensure that they did not get clogged.
Remember, you can dip or dab, but if you are dipping, just be careful not to overload the coil with product. When you add a smaller amount of concentrate to the coils each time, there is less product to cause a clog. Remember, a little goes a long way!
Bonus: being intentional about cleaning out clogs actually provided you with an extra treat in the form of reclaim.

Removing and Reusing Reclaim
Reclaim is the additional concentrate that is left over after using a Boundless Terp Pen. Here's how it works: concentrate can collect on the coils and other parts of your pen during use. Fortunately, the lower heat used in a terp pen means that the reclaim retains a good bit of its flavor and potency and can be reused.
To collect the reclaim for an extra hit, use the dab tool provided to scrape the reclaim away from the coil after a dab. I collected the reclaim in the cap of the Terp Pen for later use, but you can also use a separate container. Once there's enough reclaim, it's simple enough to add it back to the pen to enjoy an extra hit.

Can You Soak the Boundless Terp Pen in Alcohol?
While the cleaning instructions that come with the Boundless Terp Pen are easy enough, it's tempting to take a shortcut. It's almost as tempting to take that extra step once in a while to make sure the pen is completely clean. No worries – I found you'll only need to be extra thorough with the coil itself.
As you disassemble and clean your terp pen, Boundless recommends cleaning the cap, sleeve, and pen barrel with isopropyl alcohol. Spray these components and clean them with the dab tool and a q-tip, then wipe clean and let dry. The coil itself, you can soak in isopropyl alcohol while you're cleaning the other components.
Again, I highly recommend cleaning the device after every use for the best results. I made the mistake of only cleaning the coil after each use, not realizing the device was slowly building up product on the inside. By the time I did realize, I had basically ruined the device. Luckily they come with a warranty, which is also a huge bonus!

Final Thoughts on the Boundless Terp Pen
As you might have guessed, I'm a huge fan of the Boundless Terp Pen and its XL counterpart. If you enjoy the fresh and in-your-face terps you can get from a dab but don't want to deal with the hassle of a rig, nail, and torch; then the Boundless Terp Pen is for you.
For all the portability of a regular Terp Pen and with the added temperature control you need to customize your experience, check out the Boundless Terp Pen XL. These simple, sleek products are affordable, easy to use and provide a great hit every time.