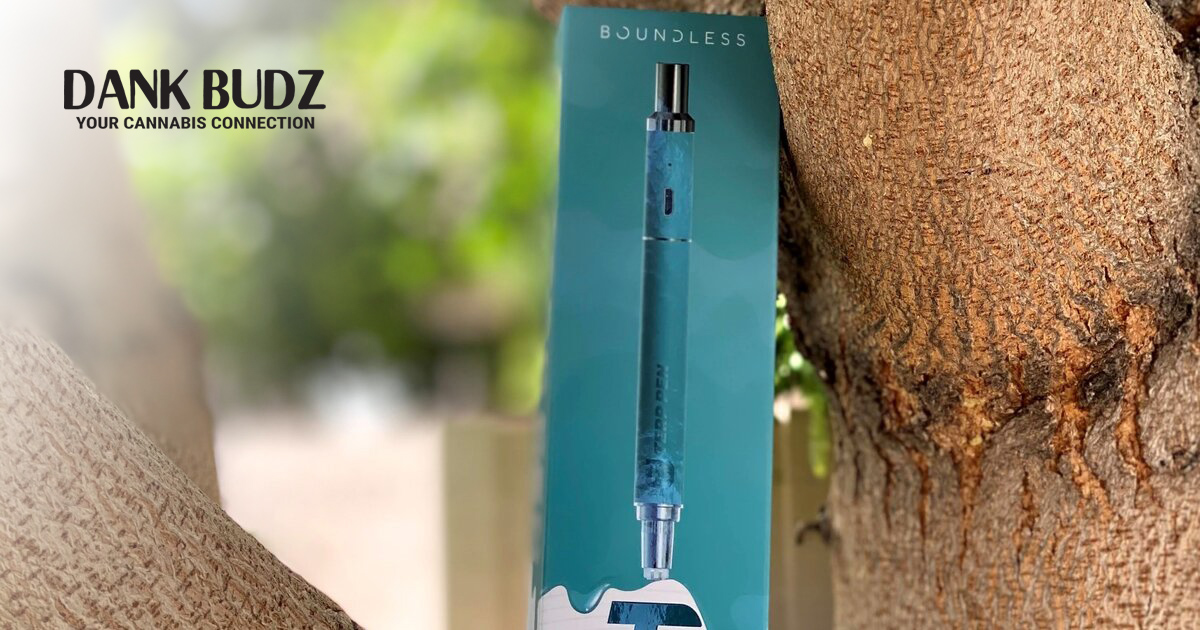 Making a purchase through a link on this page may earn us a small commission. Learn More.
The world of cannabis is constantly evolving. Currently, medical marijuana is legal in 36 states and 4 US territories, while recreational marijuana has been legalized in 17 states as of 2021. As more states legalize the medical or recreational use of marijuana every year, the number of cannabis users—whether using for medical or recreational purposes—continues to rise. With more people consuming cannabis products now than ever before, companies are constantly inventing new and unique tools, gadgets, and methods of consuming marijuana to maximize its effects, convenience, and medical benefits.
In this constantly expanding market, it can be hard to keep track of all the new products and tools available, and even harder to know which products are going to be a good fit for your specific cannabis needs.
The tools we're discussing today are the Boundless Terp Pen and the Boundless Terp Pen XL.
What Is a Terp Pen?
Also called a wax vape or dab pen, terp pens are a relatively new piece of cannabis technology specially designed to enable you to vape cannabis concentrates easily and on the go. Many of the traditional methods of dabbing cannabis extracts, such as shatter and wax, required a pretty intense dab rig setup.
A terp pen is small and compact, about the size and shape of a regular ink pen. It can easily fit in your pocket or bag and offers a discreet way to vape your favorite cannabis concentrate on the go without making a mess carrying around a big and unwieldy dab rig, torch, or other accoutrements.
How It Works
Many people prefer vaping to smoking these days for several reasons. One reason is that the effects kick in almost immediately. Another is that vaping devices are usually very discreet and compact, making them easier to use when you're away from the house. Some people also argue that vaping is healthier for your lungs and body. There are many ways to vape, and each type of vaping device operates a little differently. For many vape pens, you simply load a cartridge and are good to go. Others require you to load cannabis flower or oil into a small heating chamber of the cartridge, while dab pens forgo the cartridge completely and allow you to load cannabis concentrates like wax, shatter, budder and other concentrates directly into the heating chamber.
A terp pen functions a little differently. Instead of loading concentrate into a heating chamber or buying a pre-loaded cartridge, terp pens are outfitted with a fine, exposed ceramic coil at the tip, wrapped in a stainless steel. Boundless terp pen coils are breath activated and begin heating up instantly when you inhale, vaporizing whatever concentrates are touching the coils as you puff. Because the coils are breath activated, there are no buttons or switches on the device, giving it a totally sleek, spy-gadget appearance.
How to Use the Boundless Terp Pen
Terp pens are small and convenient and match the power of a liquid rig without the torches and butane. One of the best things about the terp pen is its versatility. They are designed to be able to fit into pockets and discreet enough to use on the go. The terp pen can also be used in four different ways, each offering a unique loading experience and type of hit.
1. Dip & Dab Method
The first and most straight-forward way to use your terp pen tool is the dip & dab method. This method is pretty much what it sounds—it's as simple as dipping your pen into your favorite concentrate and having a dab. First, remove the magnetic cap on the end of the pen covering the heating coils. As you inhale through the mouthpiece, gently tap the coils to your desired amount of cannabis concentrate.
This method allows you to control how big of a hit you get. The longer you hold the coil to the concentrate and inhale, the bigger the hit. It's important that you avoid dunking the whole tip of the pen into your concentrate container and try instead to allow only the end of the coils to touch the concentrate. This way you can avoid future clogging, and you won't have to replace the coils so often.
Pro tip: the first time you use the device you might not want to dip, at least not if your product has a more "wet" consistency. It's easy to get too much product on the coils and clog it up. Instead, maybe start with the little tool they provide and try method #2:
2. The Dab Tool Method

If you don't like the idea of dipping the coil directly into your container of concentrate, another method is to use a dab tool to take a hit. The Boundless Terp we purchased came with a small dab tool, pictured here with the cleaner provided as well:
Using a dab tool allows you to control exactly how much concentrate you want to inhale. To accomplish this, place your desired amount of concentrate on the dab tool's flat end. Next, remove the magnetic cover from the coils and inhale gently through the mouthpiece. While inhaling, apply the terp pen coils to the concentrate on your dab tool and continue inhaling for 10 seconds.
This method will keep the coils a little cleaner. You are less likely to clog the coils over time when you apply concentrate using a dab tool instead of dipping the coils directly into your concentrate container.
3. The Vape Pen Method
If you think you might prefer using a dab tool to take a hit from your terp pen, stick around—there is one more way you can use a dab tool to load your terp pen. With the vape pen method, you can use a dab tool to preload your terp pen for later hits, so it functions more like a vape pen. This is a convenient method, especially for busy people who want to be able to take a quick hit on the go.
This method also appeals to anyone looking for a bigger, stronger cloud. Remove the magnetic cap and use a dab tool to place your desired amount of concentrate on the coils, then put the cap back on. Preloading your terp pen allows you to take a hit from your preloaded terp pen any time, with almost instant heat-up time. You can even put enough concentrate on the coils for several future hits.
4. The Terp Pen Through Water Pipe Method
The fourth and final way to use the terp pen enables you to get the biggest, smoothest, milkiest clouds from your terp pen by inhaling through a bubbler. First, remove the magnetic cap and preload your favorite concentrate onto the coils using a dab tool. Finally, place the mouthpiece of your terp pen into your favorite 10mm glass water pipe, cap it, and inhale through the waterpipe's mouthpiece. Remember that as you inhale through the waterpipe, the coil at the end of the terp pen is sticking up quite close to your face, so you should be careful that you don't accidently touch those hot coils while dabbing from your water pipe.
Charging Your Terp Pen
The Boundless Terp Pen XL reaches a full charge in about 45 minutes via micro-USB charger. Fully charged, your terp pen battery should last for about 40 puffs. The micro-USB charger comes with the terp pen when you make your purchase.
Cleaning Your Terp Pen
Cleaning your terp pen frequently will keep it lasting longer and prevent you from needing to replace the coils as often. All you need to prepare in order to give your pen a good cleaning is some isopropyl alcohol, the cleaning tool that comes with your terp pen kit, a few Q-tips, and some paper towels.
To clean your terp pen, start by removing the cap and unscrewing the metal sleeve above the coils. Next, take a long puff on the mouthpiece, letting the breath activation device heat up the coils and burn off any excess residue. Having removed the metal sleeve, any waste will drift off into the air instead of into your lungs. After burning off residue from the coils, allow the coils to cool completely before removing them and continuing to disassemble the terp pen. With the terp pen fully taken apart, you can douse a paper towel in the isopropyl alcohol and begin cleaning the insides and outsides of each pen component.
Make sure you don't leave behind any pieces of paper towel anywhere in or on your pen, as you don't want these getting into your lungs later on. You can use the cleaning tool to scrape out the inside of the pen, removing any residue that may have built up from your sessions. Another great thing about the cleaning tool is that it fits perfectly inside of the air holes on the coil. Using the cleaning tool, you can gently clean and remove any residue that may be lodged in the air-hole. You can use a Q-tip or the cleaning tool to clean inside the mouthpiece as well, removing any dirt or lent from your pocket or bag that may have gotten lodged there.
Who It's Good For
Cannabis concentrates are one of the most potent forms of marijuana, offering medical marijuana users the most intense physical benefits as well as a unique and powerful cerebral effect. Many people prefer using concentrates because they provide the most relief to chronic pain and other conditions. There are many types of concentrates on the market these days—including shatter, budder, wax, and a host of others—but they aren't always easy or convenient to use, and often require special equipment like torches and butane. A terp pen allows you to experience the benefits of smoking concentrates without the fuss and extra tools. It is a good tool for people on the go and is a convenient vaping device for travel. The terp pen is also ideal for anyone who doesn't want to spend an arm and a leg on an expensive dab rig or super high-tech vape pen.
You can get your super affordable terp pen from Boundless Tech, or go for the Boundless Terp Pen XL for longer use between charges.
Boundless Terp Pen FAQ's and Review
Here are some commonly asked questions about the devices:
How Much do the Boundless Terp Pen and Boundless Terp Pen XL Cost?
You can order the Boundless Terp Pen for $29.99 and the Boundless Terp Pen XL for $59.99. The original Boundless Terp pen has the capacity for 50 10-second pulls per charge, while the Boundless Terp Pen XL allows users to go around 10 sessions before needing to be charged back up.
Use our discount code to get an additional 10% off ALL Boundless products: ygdr10
What Comes with a Boundless Terp Pen?
When you order a Boundless Terp Pen or the Boundless Terp Pen XL, you will receive the terp pen, a multi tool, a cleaning tool, a micro-USB charger, and a quick start guide. This and the strain of your choice are all you need to start enjoying your new device.
What Can You Smoke from a Terp Pen?
Terp pens vaporize cannabis concentrates including shatter, wax rosin, budder, distillate, and most others for a simpler dabbing experience.
Is There a Buyers Warranty?
Yes. Boundless Terp Pens are covered by a 3-year manufacturer warranty. Additionally, the Boundless Terp Pen series also has a 90-day warranty for its battery and coil.
Are Terp Pens Hard to Clean?
It's important to clean your terp pen often to keep it in good working condition, but cleaning it is not difficult or time consuming! Simply disassemble the pen and wipe down each component with a paper towel doused in isopropyl alcohol. You can use the cleaning tool included with your purchase to clean hard to reach places like the air holes and mouthpiece.
What Features Does It Have?
The most impressive feature of the Boundless Terp Pen XL is its breath activated heating system. It also features three different heating modes differentiated by color. You can tap the pen gently near the USB port to change or view the different heating modes.
Overall, we'd give the Boundless Terp Pen a 4.5 out of 5 stars based on the following benefits:

It's convenience of use – smaller and more portable than a traditional dab rig setup
How easy it is to clean
The almost instant heat, causing no real prep time
It comes in 3 different colors
Portable mouthpiece is tapered to fit into a water pipe, turning it into a dab rig
Price – the base model is less than $30
Their 3-year manufacturer warranty
It was also easy to order online, came with free shipping and showed up at the house fast!
If you're looking for an affordable, easy to use device that works well with cannabis concentrates, we highly recommend you try the Terp Pen or the Terp Pen XL. And, if you're going to make the purchase, don't forget to use our 10% off Boundless Sitewide Coupon code!
Save 10% Off all Purchases at Boundless Technology !