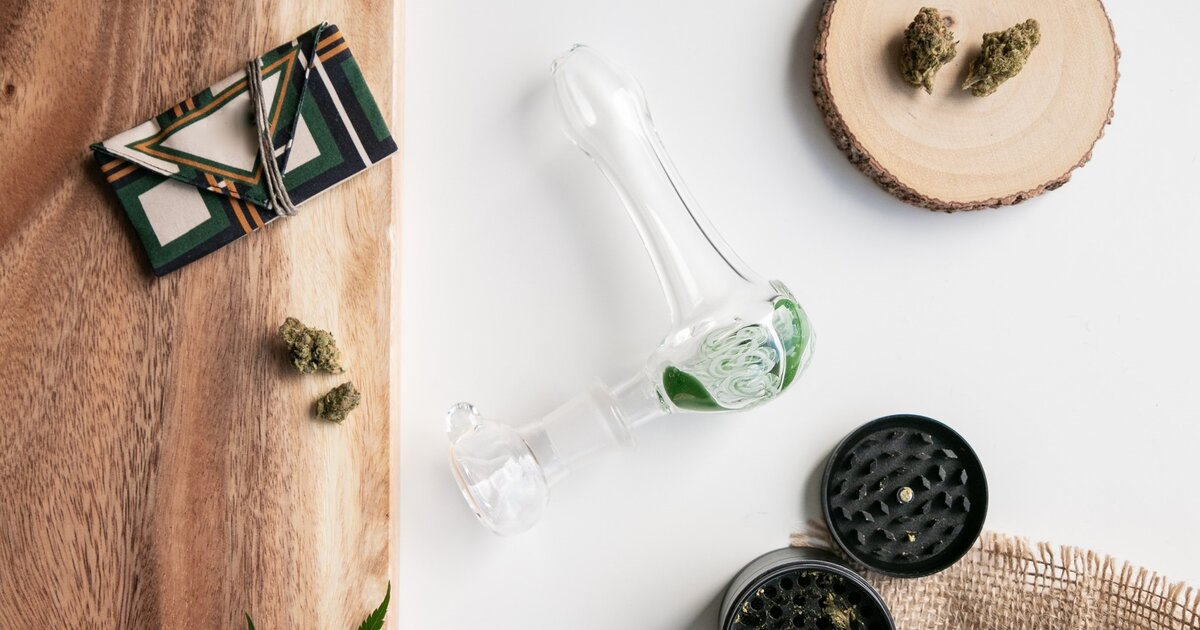 Making a purchase through a link on this page may earn us a small commission. Learn More.
The world of cannabis has taken enormous strides in recent year. These products that once weren't legal to consume, let alone sell commercially, now make up what is one of the nation's fastest growing industries. For recreational and medical cannabis users alike, one great benefit of this rapidly growing market is the amazing accessories now available.
Gone are the days where people must hide their passion for cannabis. As the stigma against cannabis connoisseurs continues to fade away, many companies have seized the opportunity to create higher-end cannabis accessories. As a result, when it comes to spoiling yourself or a special person in your life, there are endless options that could make the perfect stoner gift. While you may not be fortunate enough to have a dispensary or accessory shop near you, take heart—there are many accessories for the sophisticated stoner to be found online.
Cannabis Gift Guide
If you're looking for the best "weed" themed gifts, this guide was made for you!
In it, we will break down some of the latest stoner accessories, as well as must-have tools, devices and upgrades that any sophisticated stoner will love. These gifts are not only practical and functional, but they are also statement pieces that add a level of class and sophistication to boost any cannabis enthusiast's enjoyment of their favorite strains.
Smoking Accessories
Of all the possible marijuana accessories now available on the market, the classic smoking pipe is an essential choice. That's because when it's time to begin enjoying cannabis, many people still enjoy the simplicity of flower. However, in the last few decades, there has been a renaissance when it comes to the ways people can partake, leading to vapes, one-hitters, mini water pipes, hookahs and more becoming readily available for purchase.
We've included a variety, perfect for the sophisticated smoker:
Summerland Fruit Fantasy Pipe

This pipe is anything but classic—but that's what we love about it. When not in use, this sleek, ceramic apple looks great on even the most elegant personal library shelf. But, as Summerland points out, once your "real friends" stop by, this art piece becomes a smoking piece designed to let the good times roll. About the size of a real apple and covered with a food-safe glaze, this unique pipe is a great gift for any flower enthusiast.
Buddy One-Hitter
If your gift recipient is someone who prefers discretion, the Buddy One-Hitter is an amazing choice! This little hitter is an update on the classic – portable, attractive, and great for the person who likes to keep their cannabis with them without drawing attention. This one-hitter features an anodized aluminum body with a matte-black finish, but what's really cool about the Buddy is that it is customizable with up to 30 characters. A creative inscription can really send this cannabis gift to the next level.
Elevate Jane Mimi

Water pipes make a great flower-smoking option for the sophisticated stoner, and the Mimi is indeed in a sophisticated class of its own. This sleek, translucent water pipe looks like a piece of art fused with science and has a double percolator which provides the user with smooth, flavorful hits. If your giftee enjoys chic stoner accessories, the Mimi is a must have.
Pax 3 Dual- Use Vaporizer
When it comes to high-tech stoner gifts, you can't go wrong with a great vaporizer. The Pax 3 Dual-Use Vaporizer can be used for both bud and concentrates. With its dynamic heat modes, every hit is smooth and full of flavor. Made with aircraft grade metal, so even the clumsiest of users can rest assured that their vape can survive a fall, the Pax is designed for portability and discreet consumption. It is a bit of a splurge, but with its level of dependability, is it sure to last you a long time with proper care.
ArGo by Arizer
This vape truly wowed our writers. The ArGo's micro heater is perfect for dry herbs and features precision digital temperature control, which means that you are fully in control of your smoking experience. The ArGo is essentially the size of your palm, making it pocketable and discreet while the glass pod system is easy to clean when you're finished. This vape can also last up to 90 minutes per charge, giving you freedom to venture away from your charger.

Smoking from a hookah is an experience most people don't find outside of a dedicated hookah café–a traditional hookah set up can be a bit time consuming and is often best enjoyed with others. Fortunately, this mini hookah makes this process more convenient than ever. The device fits in the palm of your hand and offers a unique smoking experience, complete with all the flavor and relaxation you'd expect from a true hookah.
Cannabis Tools and Accessories
When you're searching for the best cannabis gifts, you'll likely find you don't need to look much further than cannabis accessories. These accessories make consumption easier, more fun, and can even serve as a statement piece when not in use. We've rounded up some of our favorites.

This gold-hued grinder screams indulgence. Larger than most traditional grinders, the Gilded Grinder can process more of your favorite flower, faster. It has diamond-sharp teeth, and its three tiers truly makes it a statement piece. If entertaining and partaking with others is your style, this grinder is perfect for handing larger quantities in one go. It can handle any herb, giving the sophisticated stoner the opportunity to experiment with blends.
Stona Large Herb Grinder

This grinder does not belong in a drawer! Designed to be a piece of furniture, the Stona Large Herb Grinder is a beautiful combination of wood and glass. It comes with two interchangeable stainless-steel grater plates which supply an amazing grind, leaving your bud fine and fluffy. Both easy to load and easy to clean, this grinder also comes with a secret storage chamber—air-sealed with a lid made from space grade anodized aluminum.
PenSimple

Now this is a nifty tool! The PenSimple is a revolutionary herb grinder that is not only practical, but also super portable. This grinder looks like a pen, making it an easily disguisable solution for both grinding and storing your herb. With the push of a button, your herb is dispensed electronically, meaning that you don't have to even touch it to load it into your favorite smoking apparatus. This little tool is a sign of the bright future of cannabis accessories.
One accessory staple for any stoner is a rolling tray. The tray supplies a solid surface to ensure that you don't lose any of your product, and guarantees you have a portable workstation no matter where you want to partake. Lionhead makes a variety of great rolling trays, all of which are durable and made with a unique matte finish which provides that added feel of elegance.
Sometimes the simplest accessory can be the best gift. If you're looking to help your giftee spruce up their smoking habitat, this beautiful ashtray is an easy choice. It gives the look of elegance while also providing the cannabis user with a functional option for discarding ash.
Gifts for Organization and Storage
Even if your gift recipient is a cannabis enthusiast who truly has it all, they'll need a storage solution that keeps their accessories easily at-hand. These storage cases and stash boxes are perfect for keeping a variety of cannabis accessories managed—and some even come with their own elegant solutions.
Rogue Paq Mini Ritual Case Leather Accessory Gift Set
When it comes to the perfect stoner gifts for her, this accessory gift set is a must have. This kit is all about the ritual that many cannabis connoisseurs go through to prepare for their session. The Rogue Paq Mini includes a Solo Paq Cannabis case in lambskin leather, a butane refillable lighter available in two unique styles, as well as gold toned trimming scissors. This luxurious kit also includes hemostat clips and packing tools, as well as matchbooks, storage vials, and hemp rolling papers.
Original Apothecarry Case

If you're searching for the ultimate stoner gifts for him, this case truly fits the bill. The Apothecarry is strong, durable, and odor resistant, but best of all, it's simply luxurious. This case comes well-stocked with many essentials, including glass jars with lids and customizable labels, humidity control packets, dab containers, a removeable tray, grinder, and an additional small case for rolling papers. If you're looking for an elevated way to help him stock up and store accessories, this case is truly a one-stop shop.

Do you know someone who loves to roll their own cannabis? This is their dream stash box! The Ganesha Stash Box provides true quality in its design. Made from bamboo, this box is beautiful, durable, and comes with a locking mechanism that will keep your stash and accessories safe. This box provides all you need when it comes to safe storage and easy rolling; it comes with a bamboo rolling tray, an airtight storage jar and grinder, as well as a rolling paper dispenser.
While your sophisticated stoner may love their cannabis, it doesn't necessarily mean that they want to smell like it. As a result, when it comes to weed accessories, this pouch is a must have. Firedog bags are designed with smell proof technology that includes durable leather lined with premium activated carbon and filtering fabric. This provides unmatchable odor protection. These bags come with a Velcro closure and are moisture and tear resistant. Small and compact, Firedog bags are easy to travel with and store, and come with a lifetime warranty.
Gifts for the Edibles Lover
Many cannabis enthusiasts turn to edibles for a variety of reasons—dosage is clear and precise, and edibles eliminate most of the hassle of preparing and consuming cannabis in other forms. Edibles can also be a tasty treat, and a way to experiment in the kitchen with fun new recipes. If you have an edible lover in your life, these are some of the newest must-haves.

This is a more sophisticated take on an easy bake oven for stoner accessories. This all-in-one product makes creating edibles a breeze. No experience is necessary, so you don't have to be a rockstar in the kitchen to make amazing treats with this device. The Ardent FX decarboxylates, infuses, bakes and melts. It also contains any odor, making it a perfect gift for your more discreet user. Cleanup is simple, and it is suitable for small kitchens and workspaces.

Making baked goods infused with cannabis is simply delicious. However, when prepared traditionally, the dosage can sometimes be unpredictable which can either leave the consumer disappointed or couch locked. That is where this magical machine comes in. The Magical Butter Machine is the world's first countertop botanical extractor. It is designed for infusing herbs into butters, oils, tinctures, lotions, and so much more. This reliable machine grinds, heats, stirs, and steeps your extract. The Magical Butter Machine also makes sure that your infusions are processed at the correct time intervals and temperatures.

After browsing this cookbook, your giftee will soon learn that there is more to cannabis edibles than the traditional baked goods and gummies. In fact, there are few things you can't infuse with cannabis. This cookbook offers over 100 recipes for the cannabis-infused food lover in your life. It is a comprehensive guide for an amazing culinary weed experience, featuring a variety of creative and easy to execute recipes, ranging from health-conscious options to fully indulgent treats and desserts. This cookbook can help elevate any dish to a cannabis-infused experience.
Health and Beauty Products
For years, the powerful benefits of CBD have been noted in many industries, including health and beauty. We've found that when it comes to finding the perfect stoner gifts, more people than you might think are truly invested in comfort and relaxation. See if one of these CBD-infused gifts could appeal to your giftee.
Lumi Bloom Revitalizing Bath Bomb

There is nothing more relaxing than being able to soak in your bathtub after a long day. When you really want to relax, the Lumi Bloom Bath Bomb is a must. This bath bomb is packed with 100 mg of CBD—with this premium fizz in your tub, you can say goodbye to any sore, achy, and tired muscles.
Frigg Attuning Hair Potion

Does your hair need a little lift? Do you suffer from an itchy or dry scalp? This hair potion may be exactly what you need. Infused with CBD oil, this formula stimulates dry, tired follicles, creating silky ends and promoting healthy hair growth for all hair types and textures.
Calendula Rose CBD Cream

Talk about treating yourself—when it comes to this amazing CBD cream, you'll want to order one for your giftee and one for you! This cream was made with sensitive skin in mind, making it perfect for all skin types. Its gentle formula makes it perfect for treating irritated skin, bug bites, and sunburns. It is also light, making it great for a hydrating face and body cream that will leave your skin glowing.
Reading Materials
Of course, the true cannabis connoisseur always wants to learn more about their favorite strains. Fortunately, there are a wide variety of stoner related books and activities now available on the market, ranging from informative to downright hilarious. We've rounded up some great choices for any stoner bookworm.
This is an amazing book for both medical and recreational users. The illustrations and photos are vibrant, making for a great coffee table book. Best of all, it breaks down everything you need to know about marijuana, including the history of different strains, and how the marijuana we enjoy today truly came to be.

This journal is a blast and is an ideal gift for any stoner in your life. The Creative Thinking Journal is filled with a wide variety of different activities, including drawing, connecting pictures, answering questions, creating stories, and even coloring pages. The only pre-requisite? Make sure you're high first!
Weed: Everything You Want to Know, But Are Always Too Stoned to Ask
This book has the answers to all your cannabis related questions. Constructed as a guidebook, the book covers everything from smoking joints and using vaporizers to making edibles, and even includes instructions for creating cannabis infused cocktails. The authors also take care to cover must-visit stoner destinations, as well as proper cannabis etiquette. You'll be amazed at how many things you didn't know until encountering this book.

You caught us—this isn't a book, but it is a game that will have you laughing for hours. This novelty card game is perfect for game night, especially when your giftee chooses to partake in a little cannabis, first. Ducking High consists of a variety of questions that require creative, outside the box answers.
Wrapping Up: Choosing the Best Marijuana Gifts for the Sophisticated Stoner
As we've proven here, if you're searching for a gift for the cannabis user in your life, the possibilities are endless. The wide variety of pipes, bongs, and vaporizers listed above offer a superb experience no matter which method of partaking your loved one prefers. Storage and organization options mean your stoner friend no longer needs to shove everything in a drawer—many cases offer a luxurious experience while supplying great functionality and design.
Similarly, standard tools and accessories are on a much more sophisticated level than they were just a few years ago, so anything from a rolling tray to a grinder or ashtray can create an experience and elevate any coffee table. Edible creating is easier than ever, and the simplicity makes it approachable to any level or stoner, new or old.
So, with all these available options, which should you choose? We think you'll find that the best gifts for cannabis users are the ones that come from the heart, and that's what will make the largest impact on your loved one. Find something you truly get excited about, and your giftee will feel the true sentiment you put into every stage of the selection process.