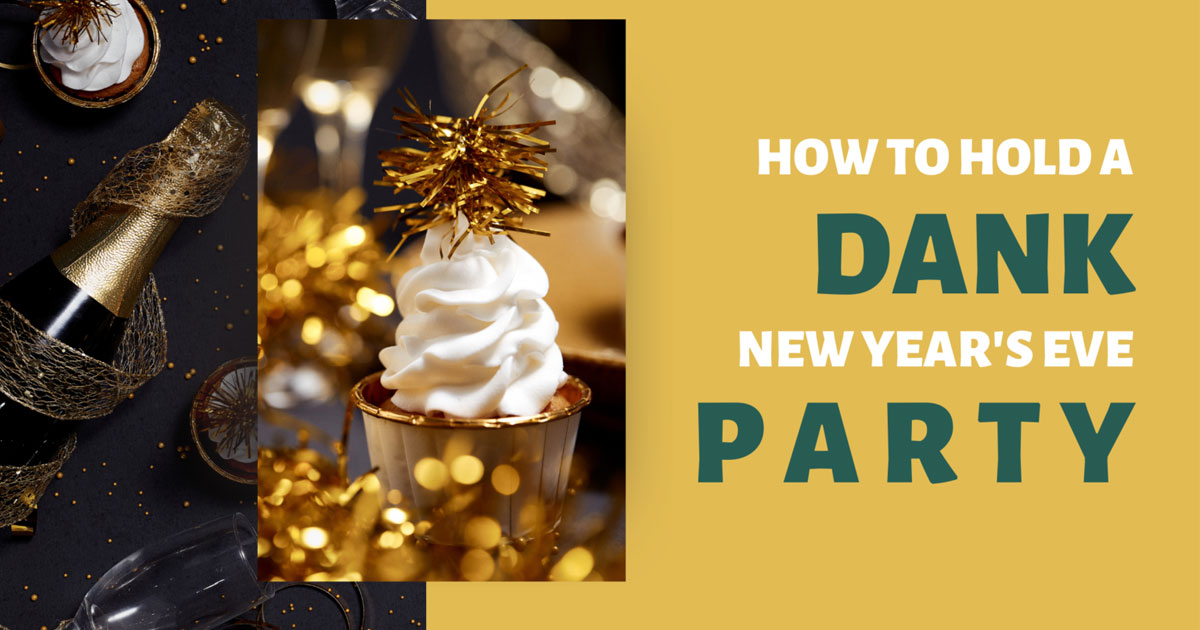 New Year's Eve in the United States has long been defined by champagne toasts and drinking in general—often to excess. Unfortunately, for many who choose to indulge, the next morning is far from the inspirational time for renewal the new year is touted to be. Others who abstain from alcohol may feel left out of the holiday festivities. 
The continuing spread of cannabis legalization now offers a fantastic alternative to liquid libations for those who want to get festive this New Year without wasting the first day of the new year nursing a hangover. Cannabis is now available in a tremendous variety of forms, including edible confections, potent concentrates, and even readymade beverages in addition to the classic flower. While it's simple enough to request approval from a party host to bring your own in lieu of a midnight toast, why not take it a step further and plan your own canna-centric New Year's Eve party?
Planning Your Cannabis Party
When planning a cannabis party, there are a variety of things the host must consider to ensure the experience is safe, legal, and enjoyable for all guests. The logistics can seem like a great deal to manage, but the results will be well worth it. You should plan your guest list in advance, keep invitations classy and low-key, and be sure you fully understand all local laws regarding age requirements, legal consumption spaces, and more. Armed with this knowledge, you'll then begin planning your menu and entertainment. 
Unless you're hosting a BYOC (bring your own cannabis) event, you'll also need to consider which strains of cannabis you'll be serving your guests. The various cannabis strains—and even products made from them—produce different effects, and it's critical to create a premium cannabis experience for your guests. One key to success will be sourcing all your cannabis-infused delectables from a reputable recreational dispensary with top-shelf, creative, and delicious options.
Whether you want to put together an intimate get-together with close friends or a cannabis-fueled, midnight neighborhood soiree, you'll need both help and inspiration. These tips can help ensure that your inaugural cannabis-themed New Year's Eve is a success!
The Guest List
Any successful party begins with a carefully thought-out guest list. For your cannabis New Year's Eve bash, you may feel inclined to invite all your closest family and friends simply because you're hosting a holiday party. With a cannabis party, however, it's particularly important to consider other people's comfort levels. Despite tremendous progress over the last decade, there is some remaining social stigma regarding cannabis which can make some people uncomfortable. Of course, this is one reason to ensure your party will be a safe, friendly, and legal event.
A successful cannabis-themed New Year's Eve party requires you to cultivate a very particular vibe. All the thoughtful decor and high-end party favors in the world won't make up for a disapproving guest making the night about themselves. It can be awkward to pass on inviting a dear relative or part of your core friend group to a party, but it may be even more awkward to set a negative vibe. If you're like us, your close friends are the sorts of people you'd love to have at a cannabis-forward New Year's celebration anyway.
We typically recommend against using open social media invites (such as a public Facebook event) for promoting a cannabis-themed party, as this reduces your control over who will be arriving, potentially threatening the unique vibe you've so carefully cultivated. If you need help expanding the guest list, begin by allowing trusted friends to invite friends of their own. Publicly promoting your party via social media may open you up to a social media free-for-all that could be shared anywhere.
If you do intend to have your party open to the public (of legal cannabis-consuming age), consider promoting it through posts shared with specifically targeted private groups on social media. Alternatively, consider using print fliers at appropriate locations that will target your desired audience or relying on word of mouth among the communities you want to invite.
Scheduling a Date and Time
This part may seem obvious—most people host a New Year's party on the evening of New Year's Eve so that the climax will be the countdown to midnight and the ensuing toast (or toke). Still, being a bit more creative and flexible with your scheduling options may have some benefits.
First, New Year's Eve doesn't always fall on a Friday or Saturday. Say what you will about social constructs like the work week, but the reality is that many people are on a fixed schedule and only attend parties on the weekends. Depending on your guest list and their lifestyles, it can sometimes be worth it to have your New Year's party on an adjacent weekend rather than New Year's Eve itself. You can also reduce competition with other parties by holding your weed party on a different night. We're biased and would rather light up than bottom up, but some guests still enjoy watching the midnight ball drop with a glass of bubbly.
Still, it's most likely you'll be holding your New Year's Eve party on the night of December 31st unless circumstances surrounding your guest list or venue make another night an obviously superior choice. This is, of course, an extremely active night for all party-related businesses, so you'll want to make any bookings well in advance so you're supplied with food, drink, and cannabis ahead of time.
Finally, you'll need to set a time for your New Year's Eve extravaganza. If you're serving a full meal, most experts suggest beginning at around 7 PM, so your guests aren't too hungry when they arrive. If you're serving strictly hors d'oeuvres, you can start a bit later. Avoid starting too early, or you risk your party losing stamina before the final countdown arrives.
Choosing a Venue
You must also decide where to host your party. If you need to rent a venue, it is absolutely crucial that you interact with potential facilities in an open and collaborative way. The facility renting you space must understand your intention to consume cannabis products on the premises. Do not try to hide the cannabis consumption aspects of your party. Doing so may not only cause liability but may set back the decades-long cultural battle that led to legalization in the first place.
You may likewise want to check with the local authorities regarding their interpretation of cannabis laws in your jurisdiction. While you may be hesitant to call the police on yourself for a cannabis party, it's better to politely forewarn them rather than have them learn about your party via an unexpected visit. On that note, you should also warn (or invite) any neighbors who may have concerns with the traffic or noise related to your event.
In this relatively early era of legalization, private land and personal homes are often the best solutions when they are available. As legalization and normalization continue to spread, however, you will find more and more high-end venues willing to work with cannabis-themed events.
Whether you go with a private home or rent a larger venue, it's a great idea to find a location with both a climate-controlled interior space as well as an outdoor area so your guests can catch some fresh air. Non-smoking venues may also compromise with you and allow smoking/vaping in particular outdoor areas not exposed to the street or public areas, so an indoor/outdoor space can be key to a successful event.
If your guest list is any larger than a dozen guests, you'll need a venue large enough to establish separate zones for socializing, food, entertainment, and cannabis consumption. Having multiple options is key to keeping guests happy and maintaining optimal energy flow.
Planning a Menu
You'll need to decide whether your New Year's Eve gathering is a cannabis-only event or if you will also be allowing alcohol. If you aren't hosting at your own home, this is a decision that should be made collaboratively with the venue.
The vibe of your cannabis party will dictate the food and drinks you serve. Of course, the vibe is all about your tastes, your budget, and what your guests will enjoy. For a high-energy, music-forward event, a table of whimsical finger foods will suffice, but if you're hosting a handful of close friends and family members, you might opt for a full-blown cannabis-infused dinner service. There are plenty of recipes for cannabis-infused treats online and even more verified recipes in the growing number of cannabis cookbooks available. 
Finally, make sure to have plenty of non-infused food and drink on hand. Offering a buffet of only cannabis-infused treats could mean nobody lasts until the ball drops. Keep in mind, too, that the terpene profile (the scent and flavor) of the cannabis you choose to serve at your party can also have an impact on which other foods and drinks it will pair best with. When you shop for your cannabis selection, be sure to ask our budtenders about the dominant scent and taste effects exhibited by each strain you choose. Our terpene bar, where you can interact with the sensory delights of each terpene, can be a wonderful way to discern which flavors and aromas will be incorporated into your menu—and which foods and drinks will elevate the experience.
Planning a Party Around the Cannabis Experience 

The cannabis experience is about so much more than simply "getting high." A truly cannabis-oriented party is a communal, sensory experience. As a result, when planning a party that is focused on cannabis, you must consider the end-to-end experience of the highly social, highly spiritual cannabis ritual. 
For you and your guests, this takes place in three steps. 
Getting to Know the Product
If you plan to have a large assortment of cannabis products on offer, you might include a small informational card next to each item. It doesn't have to be quite so formal, however. You can simply do your research and be prepared to talk about the different strains and products with your guests. The knowledgeable and friendly staff at Ivy Hall dispensaries can be a key asset here.
The Ritual of Use
The sort of cannabis products you serve and the overall vibe of your party will determine what this all-important part of the process will look like. Consider planning a fun, low-pressure icebreaker activity to get guests talking as you pass around that first joint or select from an assortment of edibles. 
The Fun Part 
Once you and your guests have ingested the desired amount of cannabis, the real party can start. A balanced variety of foods, activities, and entertainment, paired with a quieter area to decompress and socialize, will ensure everyone continues to have fun throughout the evening.
What Cannabis Should I Serve?
Choosing cannabis products can be deeply personal, and what you serve your guests will depend on your tastes, budget, and other factors. For example, most indoor venues may be entirely non-smoking but will have no problem allowing you to consume cannabis edibles. The cannabis on offer at such an event will look vastly different from a New Year's Eve backyard BBQ with a variety of different consumption options.
Consider, too, the experience level and preferences of your guests. For those new to cannabis, you'll likely want to select milder products as opposed to potent ones. Some thoughts on the cannabis variety and how it impacts the overall vibe of your party will also make a difference—indica strains tend to be more relaxing, while sativas can inspire creativity and energy. The atmosphere you want to create at your party is a key factor in the cannabis you serve.
If you have limited prior experience with cannabis, simply visit your local Ivy Hall dispensary and speak with the staff about what sort of party you're having. They should have plenty of different options to show you, no matter what vibe you're going for or what constraints your venue puts on you. A high-end retailer like Ivy Hall will offer consistent quality and cheerful assistance with planning your party.
Consuming Cannabis Responsibly
It's important to remember that by hosting a cannabis party, you are taking on a great deal of responsibility. This doesn't just mean ensuring there is enough food, buying cannabis, and mingling with guests to make sure they're having a fabulous time. It also means being invested in the safety and health of your guests.
If you can fit it into your budget, hire a shuttle service so that nobody needs to drive after smoking New Year's Eve quantities of cannabis. If there is a sober driver and a large vehicle in your own household, this makes a great substitute and only costs you some gas. Your neighbors will also appreciate this gesture as they won't need to deal with excess cars parked on the street.
Other ways to ensure your guest's safety include posting a dosing guide at the table, noting the effects guests can expect from each option, and encouraging moderate consumption. Since you're hosting a cannabis-infused soiree, encourage guests not to mix their cannabis with alcohol. If your party is large, you should also develop a clear set of rules covering guest behavior. Announce these at the start of the festivities, post them where everyone can see them, and be willing to enforce them by having people removed from the premises, if necessary.
Cannabis Party Decorations 
Décor is another aspect of your event that will be completely determined by your personal tastes and party budget. Black lights and abstract fluorescent sculptures are the time-tested standards for cannabis parties, but don't let that box you in if it isn't your thing. Cannabis can be classy—you don't need to inundate your guests with cannabis leaf décor to throw a cannabis party.
A more traditionally elegant and upscale New Year's Eve party where champagne is replaced with cannabis can also be a great time for the right crowd. This also has the bonus of proving to the neighbors and doubters that a cannabis party can be done in a "grown-up" way.
Find some elegant, understated centerpieces in silvers and golds, add some lush greenery or succulents, incorporate your very own Times Square-style ball, and ring in the New Year the classic way. 
In addition, you can set up a table dedicated exclusively for pot paraphernalia like lighters, rolling papers, ashtrays, grinders and containers for storing bud. This setup will provide guests with everything they need while smoking together during the celebration — plus it looks really cool! If you have enough space, consider making it into a mini lounge area complete with comfy chairs, pillows or ottomans – perfect for kicking back after having smoked a nice bowl or joint!
Finally, hang up some hemp string lights around any tables or seating areas in order to add an extra bit of ambient lighting. They come in various colors so be sure to pick ones that fit seamlessly into the rest of your decorations scheme! You could also place small tea lights or votive candles on shelves around the room too – just be sure not to leave them unattended! All together these items will help create a perfectly themed Cannabis Party Decoration look that all your guests are bound to absolutely love!
Music and Entertainment
Your personal tastes, and those of your guests, will be the key factor here. Here are some of the options you might consider:
Hire a DJ: DJ is a great option because they tend to be less expensive than a full band, usually come with all their own equipment, and have access to every genre of music. Plus, a DJ can set up in a venue of any size and help provide party games, icebreakers, and more.

Bands: If you and your guest list enjoy the same type of music, New Year's Eve is an excellent time to hire a band. Just start looking early because it's a busy night for everyone from rockers to mellow lounge acts.

Open Jam/Open Mic/Karaoke: With the significant crossover between music culture and cannabis culture, a cannabis-themed party can offer a fun opportunity to make your guests themselves the stars of the show. Providing a fun, interactive activity for your guests to participate in is sure to create memories you'll look back on for years to come.
New Year's Resolutions for Cannabis Lovers
Are you ready to ring in the new year and make this the best year ever? Here are some resolutions to keep in mind:
Stay cool—the purpose of a party is to have fun!

Only use high-quality cannabis and respect it by savoring the end-to-end cannabis experience.

Start planning early for another epic party next New Year's Eve.
We hope you enjoyed our tips on how to make your New Year's Eve party a success! Whether you're looking to ring in the new year with some friends or loved ones, we wish you all the best. As always, be sure to consume responsibly and above all else, have a safe and fun New Years Eve budz!