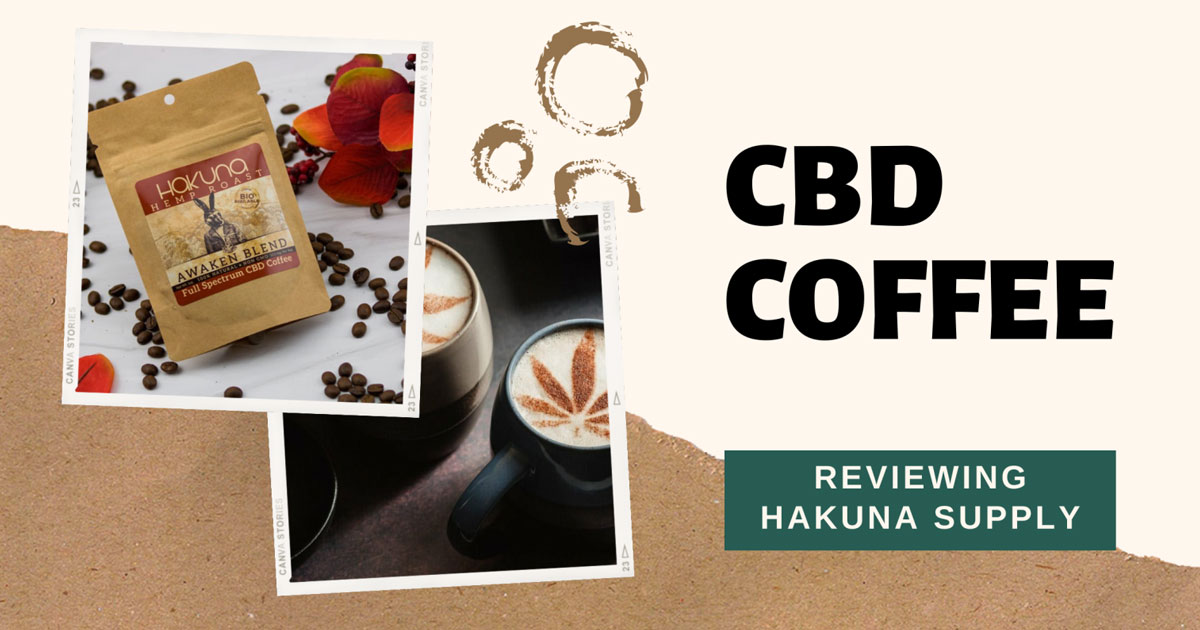 Making a purchase through a link on this page may earn us a small commission. Learn More.

The way you start your morning often sets the tone for the day. This includes your mentality towards what's on your schedule, as well as what you consume to fuel your capability to tackle it. For some, having a cup of coffee (or two) in the morning is a necessary part of the morning routine: with the right mindset and a great cup of coffee, it can feel like you're ready to take on the world. For others, the desire may be there, but the adverse effects of caffeine prevent them from enjoying a morning cup of joe.
For those who love coffee but hate the potential negative side effects, CBD coffee could be the ideal solution. CBD itself offers numerous health benefits, but when paired with coffee, this crucial cannabinoid can take your morning routine to the next level. People report that CBD helps to minimize adverse caffeine side effects such as digestive troubles and jitters, and we're reviewing CBD coffee to give you our real-life experiences with what could be your next morning boost.
What Are the Health Benefits of CBD?
Cannabidiol (CBD) and tetrahydrocannabinol (THC) are the two most prevalent cannabinoids found in the cannabis plant. CBD interacts with the body's endocannabinoid system, a set of receptors designed to bind with cannabinoid compounds and modulate functions like sleep, stress, pain response, hunger, and more. As a result of this interaction, CBD offers a variety of health benefits and is a critical component of medical cannabis products.
CBD differs from THC in multiple ways, but the most notable may be its lack of a psychoactive effect. CBD is a safe, natural, widely accepted way to achieve many of the medicinal benefits of cannabis without the high THC can cause. That means that a person can experience therapeutic effects without worrying about affecting their day by feeling drowsy or altered.
CBD research continues to provide insight into the science-backed health benefits associated with this essential cannabinoid. For example, CBD has shown significant benefits when it comes to treating a variety of health issues, including epilepsy, neurological disorders, and chronic pain. It also has anti-inflammatory properties, which help to relieve pain and reduce inflammation and can be especially beneficial for individuals who struggle with arthritis. CBD has also been linked to improvements in mood and sleep quality, which can reduce the effects of stress, anxiety, and even depression.
For those who want help with physical or mental health concerns, CBD may serve as a natural remedy that produces genuine results. In general, CBD is safe for use, non-addictive, and available in a number of different forms. CBD is also affordable, which is immensely beneficial for those who would otherwise need to use expensive prescription drugs for relief. As a result, it is easily incorporated into a variety of substances.
Hakuna Supply
Since 2016, Hakuna Supply has been committed to providing high-quality, sustainable cannabis products to customers around the world. The company offers a variety of CBD-centered products designed to be enjoyed in various ways. In particular, Hakuna Supply sees the value of merging the cannabis and foodie lifestyles and has created a number of food-ready options. Their CBD products are as wide-ranging as CBD flower, tinctures, soft gels, drink drops, teas, and coffees.
Hakuna Supply uses a solvent-free process called CO2 extraction to create their CBD products. This process ensures a pure, natural CBD experience. Similarly, the company is committed to taking steps to reduce its carbon footprint. With each box of CBD coffee sold, Hakuna Supply plants a tree – in fact, every step of the production and packaging process is designed with sustainability in mind.

Why CBD Coffee?
As mentioned, a great cup of coffee can provide a boost of caffeine that helps to wake up the body and mind. However, while coffee can give a much-needed boost, it can also cause undesired side effects, including jitters, inability to focus, gas, and even diarrhea. CBD can help calm the digestive system, which can reduce some of the negative effects associated with caffeine consumption. For individuals who find themselves sensitive to the negative aspects of coffee, CBD can help.
CBD also carries other positive health benefits that pair well with the effects of coffee, including focus and relaxation. Unlike THC, CBD does not provide a "high," which means it can be safely consumed before any activity, including travel, work, and school. It won't interfere with your morning routine and, instead, may improve your ability to start your day with a positive mindset.
CBD Coffee from Hakuna Supply
It's important to recognize that CBD coffee from Hakuna Supply differs from the usual way of consuming CBD and coffee together. With other products, you'll need to brew coffee, then add a water-soluble CBD tincture to the cup. For CBD oils, you must either infuse honey or a fatty liquid like creamer, milk, or melted butter or continuously stir to prevent the oil from floating to the top. With CBD-infused coffee grounds from Hakuna Supply, there is no mixing or complicated steps. You just purchase a bag of coffee grounds, brew, and enjoy.
Hakuna Supply is committed to serving the best CBD coffee on the market. These award-winning brews are crafted with full-spectrum CBD, providing you with the benefits of the whole cannabis plant. The oil that is collected from the plant is converted into a powder before infusing it with the coffee grounds, ensuring a water-soluble brew that will not separate while you're sipping.
Hakuna Supply offers two award-winning coffees created from quality fair-trade beans sourced directly from Guatemala. Awaken Blend is a full-bodied medium roast with the perfect amount of caffeine to give you that much-needed morning boost. Their Dream Decaf provides a full-bodied coffee experience without the effects of caffeine. No matter which you choose, many users state that this coffee offers a gourmet experience from start to finish.
Hakuna CBD Coffee Reviews
While Hakuna Supply CBD coffees frequently receive glowing reviews online, we decided the best way to get a true feel for their effects was to try them ourselves. See what our cannabis experts had to say about CBD coffee from Hakuna Supply.
Chris B
"I made 2 cups of Hakuna Hemp Roast Awaken Blend, Full Spectrum CBD Coffee, which is essentially a regular-sized mug of coffee. There were no instructions on the package, so you need to be an experienced coffee maker or look up the proper ratio online. It did not taste like there was anything more than coffee included. I know that CBD tinctures can taste bad sometimes, so it was a relief that it tasted like regular coffee. Why do tinctures taste so bad if it's possible to infuse CBD into coffee with no added flavor?
I drank all of it within about 20 minutes. At first, my body didn't feel any effects, but my head was waking up, so it seems to have the typical amount of caffeine. I am not a very experienced CBD user, so if there was an overwhelming effect, I would certainly notice it; and for the first 15 minutes, I didn't. After about 15-20 minutes, I noticed a slight feeling of ease, like my body was slightly lighter, and I was settled in a little more. It's not a "wow!" feeling, but just a mellow, sailing along, feeling ok, ready to focus and get some work done.
It seems like the very mild effects lasted about 1.5 hours, and then I found myself wanting more. I typically drink more than a few cups of coffee each morning, so that's not unusual to want more.
If I had to choose to drink regular coffee or this CBD coffee, and all things were equal, I would prefer the mild effects of the CBD coffee."
Anthony
"The first thing I noticed was the Hakuna packaging. I received a 2 oz. packet of the "Awaken Blend." The packet came with a cool, little "Hakuna Supply" logo sticker. (Be careful when tearing the packet open, so you don't rip the sticker that is tucked inside.)
Each packet/bag is 25 mg. I use a French Press and eye my ingredients like a true Italian. So, in my case, I was able to experience the coffee on four separate occasions, enjoying about three cups per session.
Per Hakuna's site, this particular blend comes from the Coban region of Guatemala. As per Google, Guatemalan coffee is known for its medium to full body. I noticed a pungent bouquet as soon as I opened the bag. I wouldn't attach a negative or positive description to the aroma. Nor could I ascertain a recognizable aroma (e.g., chocolate, french bean). Another online reviewer points out that Hakuna is attempting to throw a wide net with this blend versus attempting to win the hearts of drinkers with exotic aromas and ingredients.
I have never used CBD for relaxation, concentration, or post-exercise. So, it's difficult for me to make a distinction between this product and others. Out of the four occasions, I drank the coffee twice in the morning, once in the early afternoon, and once after a workout in the late afternoon.
I can't say I noticed a difference in alertness or concentration during any of the sessions. However, I did notice somewhat of an effect or body reaction the day I drank after a workout. I may have otherwise dismissed it as "something I was expecting." In other words, I may have assumed I was "just thinking I'm feeling it" if it wasn't such a distinct effect. It was an all-over calm in my muscles, almost like I had gotten out of a massage.
Overall, I'm still not sure if I am ready to switch from my usual local coffee beans as a habitual drinker. But I'm curious to read more reviews or hear from other people about how Hakuna's Awaken Blend made them feel after a workout. Personally, I'm most interested in CBD for pain and inflammation. I can't say I felt more awake compared to any other coffee-drinking morning, but this hemp roast did help my muscles and body feel rested after a workout."
Tatiana
"I recently decided to try the "Awaken" Hemp Roast CBD coffee by Hakuna, and I must say I'm really glad that I did! As soon as I opened the bag, a pleasant aroma struck me – it was strong and satisfying without being overwhelming.
The taste was just as yummy; the roast had a rich and nutty flavor that complimented the slight hint of chocolate that lingered in every sip. It felt like a real treat to drink this coffee, but with the added benefit of calming anxiety effects from the hemp-derived CBD. The combination was truly perfect for me!
Some users might raise an eyebrow at the cost of this coffee, but if you factor in the costs of purchasing fresh coffee beans as well as CBD separately, I think it's comparable. This is a great way to enjoy both the benefits of healthy hemp-derived CBD and rich, delicious coffee all in one package. So don't be put off by the price – it's totally worth it!"
CBD and Coffee FAQs
If you're still not convinced CBD and coffee are the ideal combination for you, learn more about CBD with these common questions.
Pour Yourself a Cup of Hakuna Supply CBD Coffee
Researchers continue to uncover a wide variety of health benefits caused by CBD, and it can seem like there is a new CBD product on the market nearly every day. That's why it is so important to identify quality companies that are transparent with the sources and techniques used to create their CBD products. Hakuna Supply is a brand we trust that is always innovating to create quality, unique cannabis products, and their CBD coffee can truly take your morning routine to the next level.
---
References