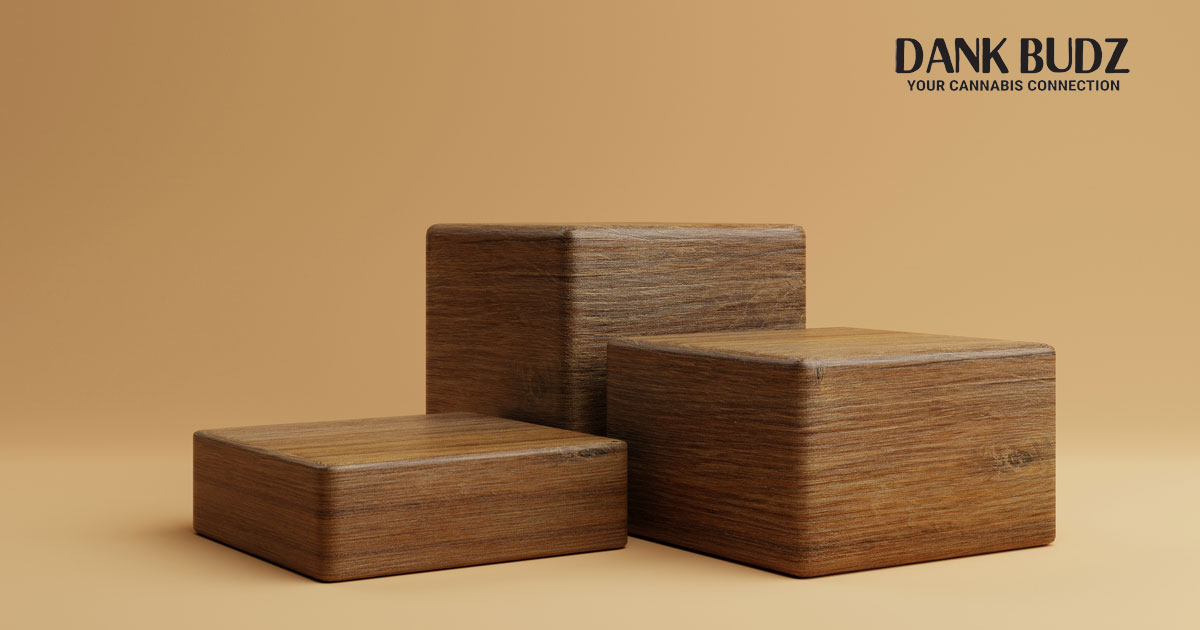 Do you need a place to safely store your cannabis and smoking accessories and keep them neatly tucked away when you don't need them? An attractive and discrete system for storing your cannabis can help enhance your privacy, protect your stuff, keep children and pets safe, and avoid judgmental side-eye when your in-laws visit. Properly storing your cannabis can even keep it fresher tasting and keep it potent for longer. [1]Trofin, I. G., Vlad, C. C., Dabija, G. Filipescu, L. A. U. R. E. N. Þ. I. U. (2011). Influence of storage conditions on the chemical potency of herbal cannabis. Rev. Chim, 62 (6), 639-645. Retrieved … Continue reading
Defining the Stash Box
A stash box, broadly speaking, could be any container used to keep something hidden, or at least inconspicuous.
Typical features of a stash box include:
Incognito Mode
Unfortunately, we still live in a world where not everyone is okay with cannabis. [2]Carliner, H., Brown, Q. L., Sarvet, A. L., & Hasin, D. S. (2017). Cannabis use, attitudes, and legal status in the US: A review. Preventive medicine, 104, 13-23. … Continue reading For this reason, a stash box may be disguised as a different object entirely, with a classic example of this being a thick book with a hollow cut out of the interior pages to create a storage space. The book and its contents are then hidden in plain sight by being placed on a crowded bookshelf.
Security
Some people prefer a stash box that can be locked.
Convenience
The right cannabis stash box for most users is not bigger than a shoe box.
Aesthetics
If you're going to be placing your stash box on a prominent shelf or getting it out regularly, you'll want it to be something you enjoy looking at.
Airtight Lid or Sealt
When storing moisture-sensitive things like cured cannabis flower and rolling papers, it's crucial to keep moisture from entering or escaping your stash box. A storage system using a non-sealed stash box with a smaller, airtight receptacle inside for your bud is another option. Even relatively small changes in moisture can have a notable effect on cannabis quality. [3]Coffman, C. B.,Gentner, W. A. (1974). Cannabis sativa L.: Effect of drying time and temperature on cannabinoid profile of stored leaf tissue.Bull. Narc, 26 (1), 68-70. Retrieved June 1, 2022, from … Continue reading
In this blog, we're specifically looking at the phrase "stash box" in the context of storing cannabis and cannabis accessories. In the cannabis world, a stash box is exactly what it sounds like — the receptacle you use to stash your cannabis (and perhaps the rest of your marijuana-related accessories) in between sessions.
"You Put Your Weed in There"
In the vintage 1990s era of the popular comedy TV show Saturday Night Live, comedians made their careers on the backs of recurring characters and memorable catchphrases. Rob Schneider, who would go on to famously support Adam Sandler in a number of films, had a long-haired, tie-dye clad character who worked in a gift shop full of cultural artifacts and valuable antiques. As Schneider listed the selling points of each product — a carved chest, a fertility statue, a wooden ceremonial mask — he inevitably came to the same coup de grâce for each piece: "You put your weed in there!"
It was a silly bit, and most of the comedy relied on a stereotype that seems limp and lazy by today's standards, namely the idea that cannabis users only ever care about cannabis. Like any memorable comedy, however, the sketch was rooted in something relatable. In this case, it's the fact that there really are an almost limitless number of objects you can "put your weed in!"
The Fine Art of Storing Cannabis
For cannabis enthusiasts, choosing, utilizing, and collecting cannabis accessories can be a very important and enjoyable part of the overall marijuana experience. Whether you're naming a beloved pipe or staying loyal to your favorite brand of rolling papers, or just choosing a lighter with a design you like, cannabis users are no strangers to accessorizing their kits.
Whether you're into packing bowls, rolling blunts, vaping, dabbing, or prefer to have an assortment of options on hand, one of the key parts of your cannabis setup will be the container, (or system of multiple containers) that you use to organize, carry, and store all of it. This is your stash box.
Your stash box can be as simple or as elaborate as you like. For example, a pocket-sized watertight box that holds a couple of pre-rolled joints, some loose bud, and a few extra rolling papers might be perfect for a sportsman on the go. Meanwhile, a homebody cannabis connoisseur with ample free space and a collection of prized water pipes might have an entire shelf instead of a stash box. It all depends on your lifestyle, what you need to store, and your personal aesthetic. The boundaries of what constitutes a stash box are only limited by the amount of space and resources you're willing to devote to storing your weed.
While your stash box doesn't have to be a wall safe hidden behind a renaissance painting or anything so elaborate as that, security, discretion, and "cool factor" are all definitely elements to be considered.
To Stash or Not to Stash?
So why do you even need a stash box? Chances are you already have dresser drawers, pockets, old peanut butter jars, and a thousand other things you could potentially put weed in.
Here is what a proper stash box will do for you that even the finest reused items cannot.
Smell-Proof
Cannabis has a powerful smell that scientists are still trying to fully understand. [4]Koziel, J. A., Guenther, A., Vizuete, W., Wright, D. W., & Iwasinska, A. (2022). Skunky" Cannabis: Environmental Odor Troubleshooting and the "Need-for-Speed. ACS … Continue reading For this reason, one of the most crucial things a quality stash box will do is lock in that distinctive, pungent cannabis aroma so that you can transport your weed discreetly. As cannabis users, most of us appreciate the complex, terpene-rich aroma of raw cannabis flower. But if you walk into Thanksgiving dinner with your stash in a paper bag, you'll likely cause an uproar when the family wonders if it's a skunk cooking instead of a turkey.
Discreet
The discretion boosting factor of using a good stash box goes beyond keeping down the smell. All of your cannabis-related stuff is hidden away inside of a separate container. While many stash boxes do feature blatantly marijuana-themed designs, others are attractive while being nondescript and including no cannabis references.
Portable
A stash box keeps all marijuana-related items in a compact, self-contained box that can be tucked away in your pocket, purse, backpack, suitcase, or the trunk of your car.
Secure
Some stash boxes feature a built-in lock or bolt hole where a lock can be added. Alternatively, traditional locking security safes can make decent stash boxes, too.
DIY Cannabis Stash Containers
So now that we know what we need our stash box to do for us, let's get into DIY mode and dive into those creative stash box ideas. Here are some of our favorite starting places for recycled and upcycled stash boxes:
Lunch Box
Lunch box kits work great for storing your weed stuff because they often come with different individual sub containers. The air-tight, sandwich-shaped container can be used to store a decent amount of bud itself, a thermos lined with something soft can safely hold a large glass pipe, and there's ample space for other accessories.
Old Book
If you're set on the "hidden cubbyhole in an old book" thing, choose a boring book that you'll never want to read again. Public library book sales often have thick, obsolete titles going for super cheap. Open your book up about a quarter of the way and use a sharp precision knife or razor to cut out a large rectangle from the remaining pages, going almost to the back cover.
You can then tuck your cannabis inside this dugout and hide the loaded book on any bookshelf. This is a much better stash box for hiding than it is for traveling. To improve on the design, you can epoxy or lacquer the entire interior, so the pages aren't flopping all over.
Deodorant Container
When your deodorant is used up, you're left with an empty plastic rectangle that can be retrofitted as a storage container. The lingering deodorant smell can work to help cover up marijuana odors, but it can also leak into your bud. It's best to wash it out thoroughly before turning it into a stash box.
Hairbrush
If you want a super-secret stash container that won't arouse any suspicion, should it fall out of your bag, hairbrushes of the large, cylindrical style sometimes have an end cap on top that can easily pop off. This gives you room to store whatever you'd like inside the main body of the brush. Pliers or a pocket knife may be necessary for working this end cap out the first few times.
Cigar Box
Although it offers little in the way of scent blocking, a vintage cigar box is a natural favorite for obvious reasons. If it's good for storing tobacco, it's likely decent for storing cannabis as well.
Vintage Jewelry Boxes
Vintage jewelry boxes with their compartments of various sizes can make excellent stash boxes depending on the types of accessories you're looking to store inside.
Old Electronics
All sorts of dead electronics with plastic casings can potentially have their components hollowed out to be retrofitted as incognito plastic boxes. Think of a portable cassette player, a VHS tape, or a handheld video game.
Buying a Quality Stash Box
While making your own clever stash box by recycling some other object can be fun and rewarding, it can also be a lot of work. If you need a beautiful stash box that's high end but under the radar (and you want it now without a lot of drilling, sanding, and waiting for epoxy to dry) check out a full line of stash boxes.
Locking Book Boxes
Hakuna sells beautifully crafted false books with magnet clasps or built-in locks, and they come in a variety of motifs such as a skull and atlas for tastefully blending with your library of actual reading material.

Lock Boxes
The black metal lock box style goes with any décor and offers large amounts of storage space.
Shop Now
Wooden Boxes
Classic bamboo and pine finishes are timeless and elegant.
Fingerprint Lock Boxes
For super advanced security, try a stash box that only opens for your fingerprint. Fingerprinting is one of the most accurate forms of on-demand electronic ID verification currently in use in consumer electronics. [5]Yang, W., Wang, S., Hu, J., Zheng, G., & Valli, C. (2019). Security and accuracy of fingerprint-based biometrics: A review. Symmetry, 11 (2), 141. https://doi.org/10.3390/sym11020141 Hakuna Supply offers fingerprint lock boxes in wood and metal finishes.