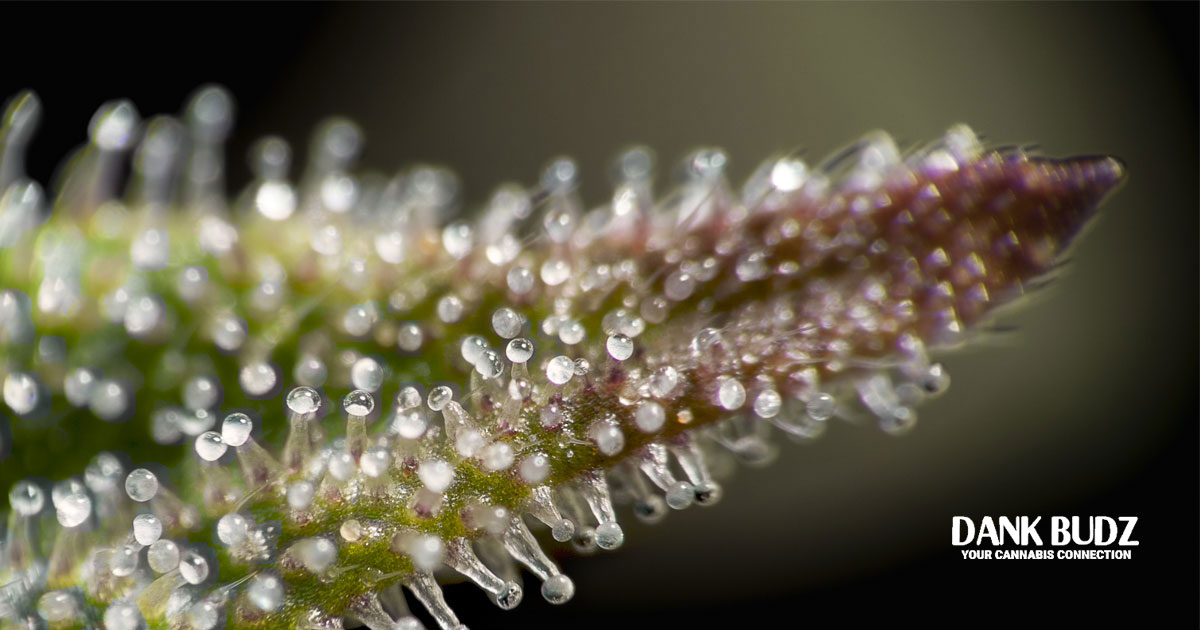 There's a lot to know about the growing cannabis industry. Bringing your knowledge to the next level can be useful for your own journey in consuming or growing weed. While you likely don't need to be told what a cannabis plant looks like, or all about its medical and therapeutic uses, there's much more to cannabis than that. Maybe you're unsure how cannabis grows, how it functions, how you can get the high you're looking for, or how you can make other forms of consumable cannabis.
You've got the basics about weed down, but it's important to learn something more in-depth, so you can grow your own, or maybe just so that you better understand the plant and its functions. Whatever your reason, the next step in understanding cannabis plants is to understand what trichomes are, and how they function, both for the plant's protection and in making concentrates and other extracts. After all, trichomes are the basis for the creation of any good concentrate or extract.
What Are Trichomes?
It's very likely that you've heard the word 'trichomes' a lot in connection with words like terpenes and cannabinoids. You've likely heard the word often when learning about extraction methods for concentrates or similar ways to isolate THC or CBD. That's because both terpene and cannabinoid compounds come straight from the trichomes, and good concentrates isolate and extract them from the trichomes at the right times to access both. This is the basic premise of the use of trichomes when making hemp and cannabis products, but there's a lot more beyond that. The more you understand about them, the better equipped you can be at creating your own concentrates or extracts, or at the very least being the expert on cannabis extracts.
Trichomes cover the epidermal surface of many plants, not just marijuana plants. On cannabis plants, the epidermal protrusions known as trichomes look a bit like a layer of frost, crystals, or even dust over the plant appendages. Their functions on other plants are anything from defense to maintaining temperature to attracting and trapping prey. As such, the visual presentation of trichomes differs from plant to plant, with some being hooked, others bulbous, and others even appearing as stars or scales. [1]Wang, X., Shen, C., Meng, P. et al. (2021) Analysis and review of trichomes in plants.BMC Plant Biol 21, 70 (2021).https://doi.org/10.1186/s12870-021-02840-x
On cannabis plants, trichomes appear as hair-like growths with slightly bulbous heads and are usually clear, white, or amber in color. Trichomes are very important to the growth of cannabis plants, and protect the plant from outside threats. Perhaps most importantly, cannabis trichomes are where you can find the much-desired THC and CBD cannabinoids.
Trichomes vs. Root Hairs
While there are some similarities between trichomes and root hairs, as they are both hair-like appendages on the skin of the cannabis plant, their functions and appearance are not the same. Root hairs are finer and take in water and nutrients for the plant's growth, and more importantly, they're all in the dirt. Trichomes are on the flower and leaves of the plant and provide defensive and protective measures for the cannabis plant.
What Do Trichomes Do?
A trichome's most important function for a cannabis plant is defense. Marijuana plants, like any plant, are vulnerable to a lot of dangers in the natural world, and the trichome on marijuana exists to defend the plant from these dangers. For one, pests would otherwise love to munch on a cannabis plant, but the trichomes are full of compounds and chemicals that bugs and animals dislike, keeping the plant safe from these dangers. [2]Shiponi, S., & Bernstein, N. (2021). The Highs and Lows of P Supply in Medical Cannabis: Effects on Cannabinoids, the Ionome, and Morpho-Physiology. Frontiers in Plant Science, 12 , 657323. … Continue reading
Cannabis trichomes also protect the plant leaves and flowers from harsh weather and climate factors like high winds, cell-damaging UV radiation, and excessively high or low temperatures. Without the trichomes, these factors could kill or harm the plant before it has a chance to grow and thrive, but the trichomes mellow the effects of these dangers and allow the plant to live on.
The Different Types of Trichomes
There are several kinds and subsets of trichomes, each with its own function, both for the plant and cannabis consumption. The trichomes exist in both glandular form and non-glandular, and different subsets of those can be found in different places. Many are microscopic, making them impossible to see by the average viewer.
Glandular Trichomes
These trichomes are very important for the production of THC and CBD cannabinoids. Glandular trichomes are multicellular, hair-like protrusions found on the epidermis of the plant and are the only trichomes that actually make cannabinoids. [3]Tanney, C., Backer, R., Geitmann, A., & Smith, D. L. (2021). Cannabis Glandular Trichomes: A Cellular Metabolite Factory. Frontiers in plant science, 12, … Continue readingThe glands between the head and stalk of these trichomes create the resin cannabinoids and terpenes are found within. These glandular trichomes come in three visually distinctive types: bulbous, capitate stalked, and capitate sessile.
Bulbous
Bulbous trichomes are microscopic trichomes. They are the smallest of the glandular trichomes, as they are made up of only a few cells. Bulbous glandular trichomes appear crystal-like, feel sticky, and are evenly distributed across the leaves and flowers of a cannabis plant.
Capitate Stalked
Capitate stalked trichomes can be seen with the naked eye and are significantly more common on the plant's surface than either of the other types of glandular trichomes. In appearance, they are indistinguishable from the capitate sessile glandular trichomes until they're fully grown. These are the trichomes you'll likely be able to identify on the plant's surface.
Capitate stalked trichomes typically exhibit a mushroom-like shape made up of a stalk and bulb, or gland head. Nutrients are transferred to the bulb through the stalk, and the base of this bulb is where the secretion cells are located. This is where cannabinoids and terpenoids are synthesized. [4]Conneely, L.J., Mauleon, R., Mieog, J.,et al. (2021). Characterization of the Cannabis sativa glandular trichome proteome.PLOS ONE 16 (4): e0242633. https://doi.org/10.1371/journal.pone.0242633 These trichomes can be seen on the surface of cannabis flowers, and because of their larger size, they contain the highest amount of concentrated cannabinoids.
Capitate Sessile
These glandular trichomes are microscopic just like the bulbous variety, but are slightly larger than bulbous glandular trichomes and more abundant on the plant's surface. They also have a mushroom shape with a stalk and bulb that have the same base secretion cells as the capitate stalked. These allow the production of cannabinoid and terpene biosynthesis, but they are not visible to the naked eye like the capitate stalked trichomes. Capitate sessile trichomes are found on the underside of the leaves of a cannabis plant.
Antherial Sessile
The fourth type of glandular trichomes is a subset of the capitate sessile, is only found on male plants, and exists only on the underside of the anthers. [5]Farag, S., & Kayser, O. (2017). Chapter 1: The Cannabis Plant: Botanical Aspects.Handbook of Cannabis and Related Pathologies: Biology, Pharmacology, Diagnosis, and Treatment, 3-12. … Continue reading It is the largest of the sessile trichomes, but like the entire male cannabis plant, these trichomes produce no cannabinoids. However, it is still technically considered a glandular trichome.
Non-Glandular Trichomes
Non-glandular trichomes are less important for cannabis consumers directly, but they are very important for the continued existence of cannabis plants. These trichomes are also found on the plant's epidermis, but they have no gland, and therefore no cannabinoids. Their purpose is mostly to serve as a defense mechanism to kill small insects, deter animal predators, and otherwise defend the plant from outside threats. [6]Turner, J. C., Hemphill, J. K., & Mahlberg, P. G. (1980). Trichomes and Cannabinoid Content of Developing Leaves and Bracts of Cannabis sativa L. (Cannabaceae). American Journal of Botany, 67 … Continue readingThey exist in cystolithic and non-cystolithic types.
Cystolithic
Cystolithic trichomes start their growth with the seedling of a cannabis plant and, like the other trichomes, their form, growth, and lifespan elapse while the plant grows. These trichomes are unicellular, squat, and claw-shaped. [7]Farag, S., & Kayser, O. (2017). Chapter 1: The Cannabis Plant: Botanical Aspects. Handbook of Cannabis and Related Pathologies: Biology, Pharmacology, Diagnosis, and Treatment, … Continue readingThe claw shape is created by a special cell wall outgrowth and makes the trichomes rough to the touch. This aids in the cystolithic trichome's function to protect the marijuana plant from bugs and animals, and they can be found covering the leaf surfaces.[8]Dayanandan, P., & Kaufman, P. B. (1976). Trichomes of Cannabis sativa L. (Cannabaceae).American Journal of Botany, 63(5), 578–591.https://doi.org/10.2307/2441821
Non-Cystolithic
Non-cystolithic trichomes are non-glandular and smaller than the cystolithic trichomes but also consist of only one cell. They are long, smooth, curved, and microscopic. [9]Farag, S., & Kayser, O. (2017). Chapter 1: The Cannabis Plant: Botanical Aspects. Handbook of Cannabis and Related Pathologies: Biology, Pharmacology, Diagnosis, and Treatment, … Continue reading These trichomes also grow from the early stages of seedling growth and are initially found all over the plant. Then, over the lifespan of the cannabis plant, they can be found largely on the underside of the leaves. They look just like tiny hairs and exist to help the plant survive extreme temperatures and loss of moisture and water.
Trichome Life Cycle, and Determining Harvest Time
Trichomes grow along with the cannabis plant, but have their own growth time and lifespan. Knowing about this separate lifespan is very important to understanding the harvesting of cannabis. Knowing when to harvest cannabis for superior trichome quality is important if you want to isolate cannabinoids and terpenes for the right kind of high. It's also important that you don't harvest the trichomes too early. This can be easily avoided by monitoring the color of the trichomes and knowing what type of cannabis plant you have, as well as what kind of high you're looking to procure.
If the trichome heads are still clear, it's too soon to harvest them. The glands have yet to fill with desirable compounds, and that can have an enormous impact on both the high and the therapeutic benefits you'll get from cannabis. Once the glands are cloudy, that means they're at their peak production. If you want a stronger, heady, and more stimulating high, this is the right time to harvest. It's also when the sativa-dominant strains are at their most potent.
After the cloudy stage, the trichome glands will begin to turn amber or orange. This mixed stage is when harvesting indica-dominant strains will give you the most potent product. The mixed stage also gives you a full head and body high. That's because amber trichomes mean the THC levels are declining, and can create a high that is felt more in the body and is relaxed. Which marijuana strain is best for you?
Both the trichomes and the resinous oils within them are vulnerable to damage by time, heat, light, and physical damage. Carefully drying, curing, and handling trichomes during the process is very important. Proper extraction and isolation of trichomes will help to extend the shelf life of the products you create.
How Do You Isolate Trichomes?
Now that you know what trichomes are, their various types and functions, as well as when you should isolate them for the right effect, the question is how you isolate them. Knowing how to isolate trichomes can help you better make concentrates and other extracts, and there are numerous ways you can do this. Fortunately, there are also many accessories that can make the isolation of trichomes easier.
Use a Grinder
The simplest way is by physical separation using a mechanical dry sifting grinder, preferably a three-chamber grinder. Once ground, the trichomes can be found in the fine powder that collects in the bottom section of the grinder. This is how you get kief, or powdered trichomes, which can then be pressed into hash. It's not the most efficient way to isolate your trichomes, as some get lost in the grinding process, but it's a fast and easy way to get concentrated cannabinoids.
The right cannabis grinder will be constructed of durable, solid metal, and will feature a kief catcher and kief shovel so you can harvest the crucial trichomes from your grind. We like this Classic Hakuna Black Grinder from Hakuna Supply, and we love that it's available with a variety of designs.

Use a Solvent
Chemical extraction is another method of trichome isolation, and it's much more efficient than physical separation. It is preferred by commercial producers because of the high amount of trichomes that come from the process. It can get you much closer to isolating all of the trichomes. However, it's more difficult and potentially even dangerous, especially for at-home makers or amateurs.
Pressurized butane oil or propane is used to dissolve and separate the trichomes from the cannabis plant, which is why at-home chemical extraction isn't very safe. However, it is the cheapest way to get a bigger payload of trichomes. This process creates waxy melted hash oils. Everclear grain alcohol can also be used for safer at-home procedures. Buying an extractor roller or similar devices can also simplify the at-home process of solvent extraction.
Extraction Without a Solvent
If solvent extraction doesn't sound appealing and grinding doesn't sound efficient enough, there are other physical ways to isolate the trichomes from the plant. The most popular process uses ice water, filter bags, and a rosin press to separate the trichomes from the plant through shaking, agitation, pressing, and sifting, for a clean and potent result. The cannabinoids won't dissolve in the water, and the in-depth process of ice water extraction and filtering is how you get bubble hash, a more refined version of the previously mentioned kief-turned-hash gained from grinding. However, it's a complicated process that is not recommended for beginners.

Learn More About Trichomes and Cannabis
Cannabis trichomes are the most essential part of the cannabis plant, for both human cannabis users and the plant itself. Trichomes enable the plant to not only keep itself safe from the natural predators and dangers of the world but also create the cannabinoids and terpenes many enjoy for their medical and therapeutic value. Focusing on the growth of the trichomes is the best way to expand the amount of cannabinoids produced so that you can better isolate a greater and more potent amount of trichomes.
References

↑

1
Wang, X., Shen, C., Meng, P. et al. (2021) Analysis and review of trichomes in plants.BMC Plant Biol 21, 70 (2021).

https://doi.org/10.1186/s12870-021-02840-x

↑

2
Shiponi, S., & Bernstein, N. (2021). The Highs and Lows of P Supply in Medical Cannabis: Effects on Cannabinoids, the Ionome, and Morpho-Physiology. Frontiers in Plant Science, 12 , 657323.

https://doi.org/10.3389/fpls.2021.657323

↑

3
Tanney, C., Backer, R., Geitmann, A., & Smith, D. L. (2021). Cannabis Glandular Trichomes: A Cellular Metabolite Factory. Frontiers in plant science, 12, 721986.

https://doi.org/10.3389/fpls.2021.721986

↑

4
Conneely, L.J., Mauleon, R., Mieog, J.,et al. (2021). Characterization of the Cannabis sativa glandular trichome proteome.PLOS ONE 16 (4): e0242633.

https://doi.org/10.1371/journal.pone.0242633

↑

5
Farag, S., & Kayser, O. (2017). Chapter 1: The Cannabis Plant: Botanical Aspects.Handbook of Cannabis and Related Pathologies: Biology, Pharmacology, Diagnosis, and Treatment, 3-12.

https://doi.org/10.1016/B978-0-12-800756-3.00001-6

↑

6
Turner, J. C., Hemphill, J. K., & Mahlberg, P. G. (1980). Trichomes and Cannabinoid Content of Developing Leaves and Bracts of Cannabis sativa L. (Cannabaceae). American Journal of Botany, 67 (10), 1397–1406.

https://doi.org/10.2307/2442867

↑

7,

↑

9
Farag, S., & Kayser, O. (2017). Chapter 1: The Cannabis Plant: Botanical Aspects. Handbook of Cannabis and Related Pathologies: Biology, Pharmacology, Diagnosis, and Treatment, 3-12.

https://doi.org/10.1016/B978-0-12-800756-3.00001-6

↑

8
Dayanandan, P., & Kaufman, P. B. (1976). Trichomes of Cannabis sativa L. (Cannabaceae).American Journal of Botany, 63(5), 578–591.

https://doi.org/10.2307/2441821