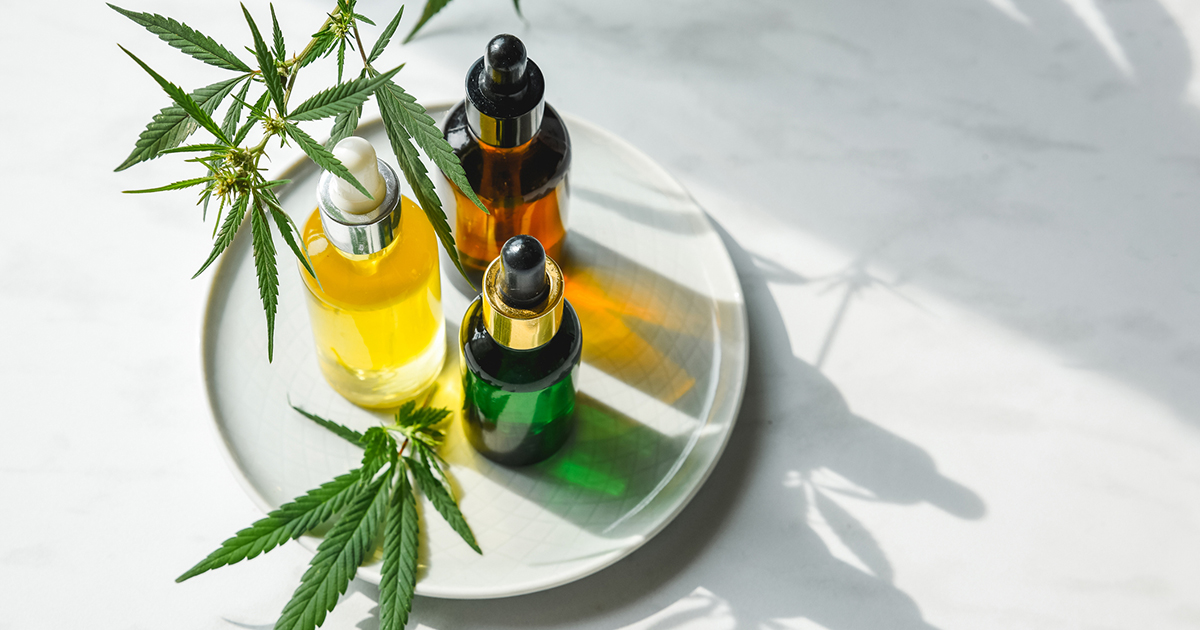 Making a purchase through a link on this page may earn us a small commission. Learn More.
CBD, also known as cannabidiol, and CBD infused products have enjoyed a rise in popularity over the last few years, and for good reason. CBD has been proven to have many positive effects on the human body. In fact, we are still in the process of uncovering the many possible medicinal uses, both for mental health issues and physical ailments.
The most commonly known ways to introduce CBD into your system are via ingestion, through edibles like gummies, or via inhalation, through vaping and smoking, but that's just the start. There are plenty of other methods as well, each best suited for a different need. One lesser-known method of using CBD amongst beginners is CBD oil tincture, but it can actually be the most effective way to get the full benefits of the treatment. We aim to answer any questions you might have with an in-depth CBD tincture review, starting with the most basic: what is a tincture?
What Is a Tincture?
The first step to demystifying cbd oil tincture is starting with a basic tincture definition. In terms of origin, the tincture meaning is derived from the Latin word "to dye," which describes a process where one element takes on the quality of another. The modern usage of tincture refers to a liquid composed of both ethanol and extracts from a plant or animal. In this case, CBD oil tincture is made by steeping hemp flowers in alcohol over low heat. The result is a substance with a very high CBD content.
It should be noted CBD oil tincture and weed tincture are not the same thing. CBD oil tinctures are made from hemp and have little THC, the psychoactive ingredient in marijuana. Weed tinctures, on the other hand, are made from cannabis, which does include THC.
CBD infused tincture oil is generally sold in a small glass bottle, along with a convenient, built-in dropper lid.
For What Purposes is CBD Oil Tincture Used?
CBD has a wide variety of medicinal applications. The most common benefits of CBD include pain relief and relaxation, both in a more general sense, as well as in more acute situations. CBD also has anti-inflammatory properties, helping relieve the symptoms of serious chronic conditions like arthritis.
Why Use Tinctures Instead of Other Methods?
The main benefit of using CBD oil tincture is that it contains a very high concentration of CBD. This makes the tincture particularly effective when it comes to treating health conditions that are improved by CBD.
Some of the other methods used to administer CBD include smoking or ingesting in edible form; however, each of these methods have their drawbacks. Smoking of any sort introduces the risk of exposing yourself to carcinogens, potentially doing more harm than good. Ingesting CBD in edibles, like gummies, is a practical method and extremely useful as part of a daily routine. However, the amount of CBD absorbed in this way is minimal when compared to a tincture. For serious relief, CBD oil tincture is the safest, most effective method.
How Do You Take CBD Infused Oil Tincture?
For the tincture to enter your system, it must be ingested. One easy way to add it into your diet is by simply combining it with your food or drink. A few drops of the tincture can easily be mixed into meals that are heavy already heavy in liquids and sauces, such as pasta, stew, or soup, though you would, of course, want to make sure you finish your plate! A more natural alternative might be mixing CBD oil tincture into a cup of tea or coffee. However, the oil begins to break down at high temperatures, so ensure that whatever you're mixing with your tincture isn't too hot.
Tincture can also be administered via the dropper right into your mouth. When using this method, the CBD tincture is applied just below the tongue, and then held there for about 60 seconds. This is a much more direct application, and the tincture is absorbed more readily by your body, making it the most ideal method of delivery for serious ailments.
Finally, while the intended use of a tincture is oral administration, the oil can also be mixed into a lotion or cream and applied to the skin for topical pain relief.
What is the Appropriate CBD Tincture Dosage?
Given the high concentration of CBD, only a small dosage is needed. Fortunately, the dropper offers you control over how much tincture is administered. A standard CBD tincture dosage is 25 mg taken twice a day. If over time your symptoms still do not improve, you can then increase the dosage by another 25 mg until it has the desired effects.
Additionally, some types of conditions are prone to flare-ups, or temporary increases in pain and discomfort. For example, throughout the day you might find yourself on the precipice of experiencing an anxiety attack or sense the oncoming pressure of an unbearable migraine. You can take an additional dose of CBD oil tincture to help manage such symptoms when applicable. When taking more tincture than usual, you might be concerned with regards to a potential overdose. Rest assured that it is impossible to overdose on CBD oil tincture to the point of needing emergency medical attention. Extremely high doses may make you feel lightheaded or give you dry mouth but nothing beyond some mild irritation.
Keep in mind that due to the differences in metabolic rates, weight, tolerance, diet, and other personal attributes – as well as the condition being treated – everyone's perfect dosage is different as well. Just because someone you know happens to benefit off a specific amount of tincture doesn't mean you should expect the same results when using the same amount. Monitor your reactions to the tincture and increase or decrease the dosage as needed until you find what works for you.
Are There Any Downsides to Using CBD Tincture?
The biggest downside to CBD oil tincture is the taste. Like many products derived from hemp, the oil tincture has a very powerful, distinctive taste that most people find unpleasant. This is why many people prefer to ingest it while mixed with food or drink, despite this method interfering with the effectiveness of the CBD.
Where Can I Find the Best CBD Tincture for Sale?
If you're ready to try CBD oil tincture, it's important to make sure you're purchasing the best CBD tincture on the market. There are a lot of varieties, and not all of them are going to have the same level of quality or effectiveness. It's crucial to ensure you're going with a product you can trust.