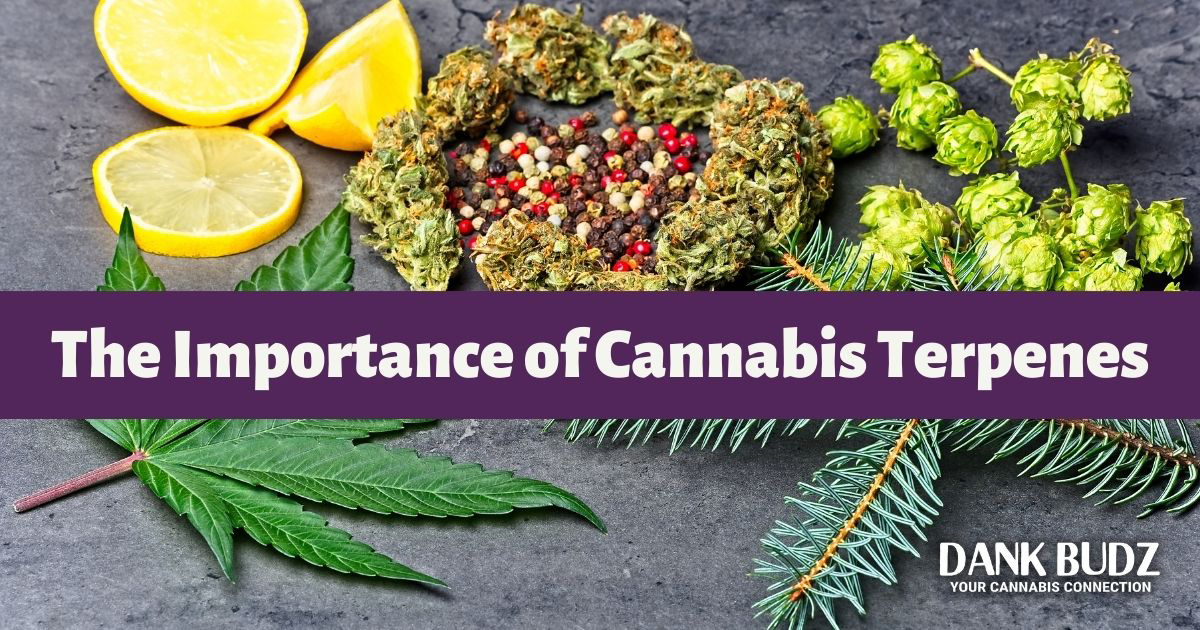 The therapeutic and recreational use of cannabis has been revolutionized in the past several years. As a result, more and more people are learning about the extraordinary therapeutic and psychoactive effects you can achieve with cannabis. As your connection to the cannabis community, Dank Budz is here to help you begin your cannabis education.
As you prepare to embark upon your journey with cannabis, it's important to understand the basics of some important cannabis compounds. Armed with this knowledge, you can experiment and customize your next session.
Whether you're looking to enjoy a deep, meaningful, psychoactive encounter or achieve therapeutic effects like relaxation or chronic pain relief, cannabis compounds are at work. No matter your cannabis goals, understanding the various compounds found in cannabis and how they make each strain unique can be an empowering experience.
Why Learn About Terpenes?
When it comes to cannabis compounds, most people think of THC and CBD. While these are the primary compounds responsible for most of cannabis' effects, they certainly do not act alone. We'd be remiss if we ignored terpenes, another key player that impacts not only the senses but also the unique mental and physical effects each cannabis strain creates.
Terpenes are responsible for the rich flavors and pungent aromas you take in when you encounter high-quality cannabis. In addition to influencing taste and smell, terpenes also interact with over 150 cannabinoids found in cannabis, altering or enhancing the effects they produce. This occurs because cannabis terpenes modulate the way THC, CBD, and other cannabinoids interact with cannabinoid receptors in the body. Depending on the terpene and cannabinoid profiles in a particular strain of cannabis, you can elevate your state of mind, stimulate euphoric feelings, and even yield positive health-related benefits.
Understanding Cannabis Terpenes
Terpenes are biological compounds that occur in high concentrations on the shiny, orange, hair-like trichomes covering the cannabis bud. Composed of large hydrocarbon groups, cannabis terpenes can interact with the same endocannabinoid receptors as their cannabinoid counterparts. By binding with these receptors or influencing the way cannabinoids form their bonds, terpenes can influence the way you experience the effects of cannabis.
You can think of terpenes as the master influencers of cannabis flavor and aroma. Terpenes, or terpenoids, are compounds found not only in cannabis but across the plant kingdom. For example, when you smell fresh pine or taste the fruity bite of a mango, you are experiencing terpenes in action. The terpene profile in a cannabis strain, or the unique composition of terpenes in a strain, will determine how the product will taste and smell. In nature, terpenes have a specific purpose—they serve to drive away pests and predators, attract insects and animals who may help with pollination, resist disease, and may even provide UV protection.
Terpene Profiles
Expert cannabis cultivators custom-develop hybrid strains to exhibit new and interesting terpene profiles that feature exciting tastes and smells. These strains are often named for the sensory impact they have on the user. For example, a strain with the taste of mouth-watering cinnamon vanilla may be named Sticky Bun, and one with the aromatic smell of a field of wildflowers may be named Flower Power.
Custom terpene profiles are not just created for their taste and smell: they may also be created with therapeutic benefits in mind. Depending on the terpene, benefits can range from decreased stress and anxiety to anti-fungal and anti-bacterial properties. Together with cannabinoids, terpenes can have a remarkable impact on the way cannabis works within the body to treat various ailments.
Common Cannabis Plant Terpenes
Over 150 terpenes have been discovered by scientists occurring naturally within the plant kingdom.
There are a number of terpenes you should know about that are commonly found in cannabis plants.
Linalool
Flavor/ Scent Profile
Linalool, a terpene found highly concentrated in lavender and cannabis, has a deeply woody, spicy, and floral scent. Laurel, birch, rosewood, and coriander are other plants that have an aroma largely dominated by linalool. This terpene is also prominent in some citrus fruits.
Effects and Benefits
Linalool has been utilized as a powerful sedative and sleep aid since the early days of recorded human history. Linalool appears to help with the uptake of THC in the body. It appears to promote deep relaxation and has anti-anxiety and antidepressant properties. In terms of effects on the body, linalool relaxes the muscles and serves as an anticonvulsant.
Limonene
Flavor/ Scent Profile
Limonene, the second most common terpene in cannabis, has a citrusy, sweet, or even sour flavor. Perhaps unsurprisingly, it is highly concentrated in citrus fruits like oranges, lemons, grapefruits, and limes and also found in mint, juniper, and rosemary. The aroma of limonene is similar to its taste, both citrusy and tangy.
Effects and Benefits
Limonene is found in high concentrations in many sativa-dominant cannabis strains, and it increases the absorption of THC in the body. This terpene also contributes to the many therapeutic benefits associated with cannabis, such as stress relief and enhanced mood. Limonene appears to serve as an anti-fungal, anti-bacterial, and anti-inflammatory agent. It can also aid in digestion and help fight acid reflux.
Pinene
Flavor/ Scent Profile
Pinene, the most common present terpene found in plants, is found as either alpha- or beta-pinene. The alpha variety of pinene radiates a deep pine scent with hints of rosemary, while beta-pinene secretes an aroma of parsley, basil, hops, and dill. Pinene occurs naturally in coniferous trees, citrus peels, and turpentine.
Effects and Benefits
Pinene can enhance sensory sensitivity, lead to newfound wakefulness, and promote an elevated state of mind. These properties of pinene have been shown to help combat the effects of memory loss. Pinene also appears to relieve pain and can be used as a topical antiseptic and anti-inflammatory. It helps open up the airways and facilitates smoother, deeper breathing.
Myrcene
Flavor/ Scent Profile
When myrcene occurs in nature, it typically occupies up to half of the terpene volume in a plant's terpene profile. This means that most strains that include myrcene have a great deal of it; thus, it plays a significant role in the development of other terpenes in the strain. Myrcene features an earthy, clove-like aroma, which also has traces of balsam and pepper. It is also found in hops, basil, thyme, lemongrass, citrus fruits, and mango.
Effects and Benefits
Myrcene contributes greatly to the therapeutic advantages related to cannabis consumption. Myrcene is an antioxidant as well as an antiseptic and antimicrobial agent that can also be used to relax muscles and ease aches and pains. It has also been found to have anti-tumor and analgesic properties.
β(beta) Caryophyllene
Flavor/ Scent Profile
β-caryophyllene is similar to alpha caryophyllene, but each has a slightly different chemical makeup. Caryophyllene has a woody, peppery, spicy aroma and leaves a similar taste on the tongue. It can also be found in cinnamon, black pepper, basil, cloves, oregano, hops, and rosemary.
Effects and Benefits
Caryophyllene is the only terpene that has been shown to interface directly with the endocannabinoid system in the brain. It can directly interact with the many CB1 receptors there without interfering with THC uptake. This characteristic may help caryophyllene function as an anti-anxiety and antidepressant agent. Caryophyllene can also alleviate muscle spasms and serve as an anticonvulsant, pain reliever, anti-inflammatory agent, and sedative.
Humulene
Flavor/ Scent Profile
Humulene emanates an earthy and herbal scent with strong hints of woodiness. It is the dominant terpene found in hops and responsible for their signature earthy aroma. Tobacco, coriander, cloves, sage, black pepper, and ginseng all contain humulene.
Effects and Benefits
Humulene has been found to suppress appetite and relieve pain symptoms. Like many other terpenes, humulene appears to fight inflammation and infection. It also offers anti-fungal properties.
Terpinolene
Flavor/ Scent Profile
Terpinolene has pungent hints of herbs and florals and exudes a piney punch. It can have a lemony lilac taste and smell but is also present in rosemary, sage, cypress, tea tree, and apple. Its versatility makes it a good choice for edibles, both savory and sweet.
Effects and Benefits
This terpene soothes and relaxes the mind and body. Surprisingly, terpinolene has cancer-fighting benefits and is used for its anti-inflammatory and antioxidant properties. Terpinolene also serves as an effective insect repellent.
Why Are Terpenes Important?
Cannabis terpenes contribute to effects associated with cannabis, elevating the senses and generating relaxation and feelings of satisfaction. To do so, they interface with chemical receptors in the body to energize, relax, stimulate or sedate the brain. More potential effects are discovered every day, and as researchers learn more about terpenes, growers can fine-tune strains so that each custom cannabis experience will have certain unique characteristics.
Even if you aren't a cannabis cultivator, terpenes are important to your relationship with cannabis. Understanding the role terpenes play in your favorite strain—and learning how to identify potential terpenes in a strain—can allow you to create and choose the perfect cannabis experience for yourself. Whether you are looking for a profound, full-body experience or would like a cannabis strain with antioxidant and anti-inflammatory benefits, attention to the terpene composition in a strain can help you achieve the results you want.
What Is the Entourage Effect?
Cannabis research has demonstrated the therapeutic and health-related benefits associated with terpenes, but there is overwhelming evidence suggesting that when terpenes are consumed in the presence of cannabinoids, the resulting effects are even more significant. A 2011 study showed that terpenes and cannabinoids interact to elevate cannabis effects. This interplay between cannabis compounds to enhance the cannabis experience is known as the "entourage effect."
This phenomenon has created a buzz in the past years and has driven increased interest in terpenes. An example of maximizing the entourage effect includes the way limonene appears to enhance the relaxant and anti-anxiety properties associated with CBD. The theory also suggests that unwanted outcomes can be avoided with the right terpene composition. For example, memory loss and restlessness can be countered by introducing pinene, which enhances alertness.
No matter the euphoric or therapeutic goals of a particular strain, the entourage effect promises to help unlock the full potential of cannabis.

Understanding Terpene Profiles
When browsing the shelves of your local dispensary for the perfect cannabis strain, you should be sure to consider more than just the THC or CBD content. For example, a strain with a very high THC content might feature powerful euphoric effects. A strain with a lower THC content and high concentrations of myrcene can increase THC uptake and actually give you a more lasting high.
Another thing to consider is the therapeutic benefits associated with terpenes. Perhaps you are on the lookout for a strain that will lower stress levels and relax the muscles. Maybe you would prefer a strain that increases alertness and addresses inflammation. Knowing how to identify the right terpene profile can enable you to meet all your needs in one strain.
Build Your Cannabis Connection
Ready to embark on a more customized, intentional, and enjoyable cannabis journey? Continue to build your knowledge with our cannabis blog. Then, ask your favorite dispensary to help you find the terpene profiles that work for you.
Sources: