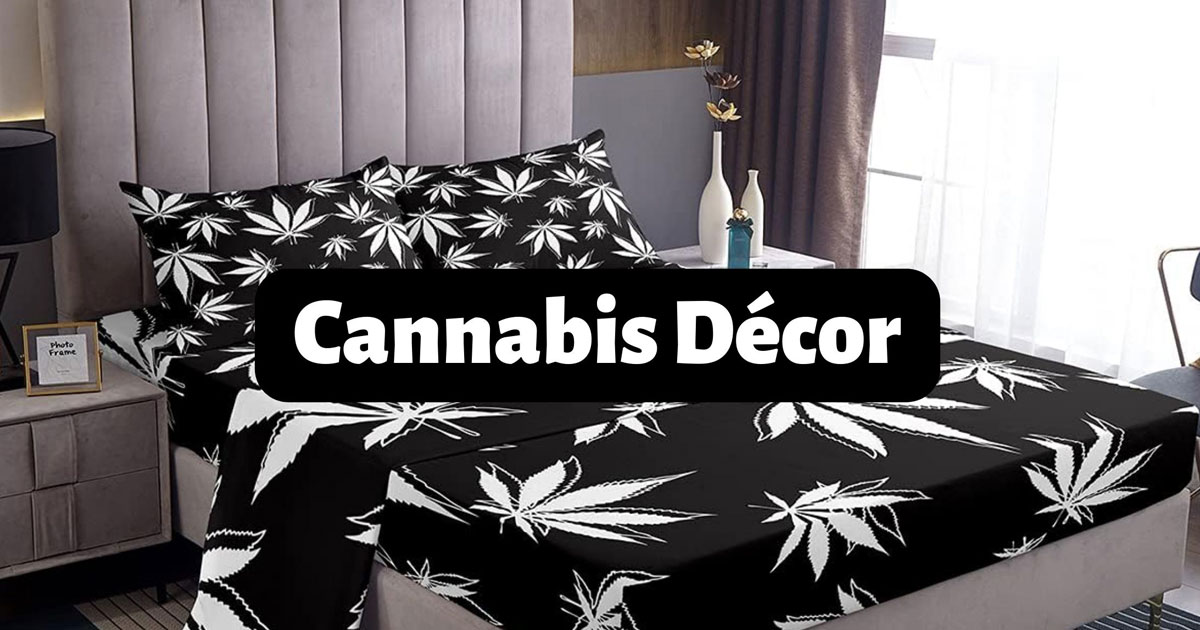 If you're like us, you have mostly fond memories of the early days of cannabis decor, with beaded curtains, Bob Marley posters, and various marijuana leaf patterns dotting a host of decorative items. Still, modern cannabis decor has come a long way since those early days. While nostalgia from the time is definitely a vibe, if you're into cannabis décor, it may be time to consider classing up your space.
Making a purchase through a link on this page may earn us a small commission. Learn More.

With the growing public acceptance of all things cannabis, there are more options available now than ever before. That means your cannabis oasis doesn't have to be generic, cheesy, or dated. You don't need a room covered in black light and lava lamps to bask in the glow of your cannabis enthusiasm. Here are some grown-up design ideas and accessory options for your modern dank decor.
Dark and Moody Ideas for Cannabis Decor
A bright, sunny space is always an option too, but for more chilled-out vibes, a moody color palette can really set the mood. Take inspiration from the color of the celebrated plant itself and go for lush greens and dark wood to characterize your space. A gray color scheme keeps decor looking modern but consider adding in some splashes of color so you don't end up with a drab zone. Creating a moody space that isn't gloomy will encourage all the good vibes you're trying to harness.
You don't have to do away with classic cannabis prints – instead, think about the ways that classic cigar rooms were set up. Wallpaper with a lush cannabis landscape can look chic if you don't select a loud print with overdone colors. If you're worried it'll look too kitschy, use wallpaper on just one accent wall. Wall hangings and drapes in lush colors will elevate any look – just remember those lush fabrics can trap smells.
If wallpaper is too much for you, a simple paint job can take the mood from boring to moody. If you've got artistic talent, or even if you want to have fun, try a mural. A statement wall with sweeping leaf-inspired motifs can make your stoner room look unique.
Cannabis Decor: Texture and Patterns
Your creativity doesn't have to stop with the color you use to inspire your space. Textures and patterns work hard to make a space feel custom and comfortable. While the velvet sofa mentioned above creates a classic air of elegance, velvet isn't the only texture that lends itself well to cannabis-friendly spaces.

Tweed and plaid are similar options that can make your room look swanky. A lavish tweed wingback chair creates those smoking-room vibes. Or, try a leather version for a bit of contrast with the existing fabrics in the space. If you make the furniture the focus, your spot can look very modern and sharp. Keeping the rest understated can help your cannabis décor feel and look timeless.
For a touch of nostalgia and additional texture, think shag – the shag rug doesn't have to be a thing of the past. Selecting a vibrant avocado green can be fun, but a jewel tone can contrast well with existing greens and look much more grown up. If you're not a fan of shag or velvet, maybe boucle is more your style. This style of fabric has loops that are assorted colors, and it gives the fabric an overall bumpy look and feel. Choose this fabric in a neutral tone for an overstuffed chair or footstool that is 70s-inspired to keep the atmosphere moody and classic.
We suggest getting inspired by cannabis leaves and similar florals.
Eclectic Meets Dank Decor
Just because your space is classy doesn't mean it can't also be eclectic. Muted colors and tones will give off a moody feeling, while fun and funky furniture and accessories make your room exceptional. Wacky lamps, uniquely shaped bookshelves or end tables, and eye-catching furniture are all ways to make your stoner room look unquestionably cool.
Take a page from the Willy Wonka handbook and choose accessories that may border on the absurd. Lighting that highlights a bizarre swan, comfortable but unconventional seating arrangements, or all gold; the sky's the limit for your ultimate dank lounge room. Your accessories are where you can really play with concept and design, and you should take time to consider the aura and feelings you want your room to exude. Think about the vision you have for your space and how you want your smoke room to feel.

The wonderful thing about shooting for an eclectic atmosphere is nothing needs to be overly matching. Maybe you have a beautiful emerald color motif throughout your special space, but you've had your eye on some cool hot pink throw pillows. Nothing says you can't embrace your funky side. Play with bright or contrasting colors and truly unique designs. Choose one bold piece to show off or a few fresh accessories.
One of the most important eclectic pieces that you can include in your stoner oasis is your stash box, meant to protect your most important goods and keep them fresh and safe. While a stash box can be practically any container, err on the side of stylish so you can let your eclectic flair shine. You could be interested in art nouveau styles, classic Japanese art, or even something more spiritual. No matter your preferred style, there's a stash box to show off your eclectic vision.
Honestly, ALL of their magnetic stash boxes are SO CUTE!

Unique Dank Decor
There's absolutely nothing wrong with being weird. In fact, embracing the weird is what makes our lives fun and interesting. When it comes to outfitting your cannabis refuge, nothing can be too weird. If you've got a flair for the comedic, there are many different avenues you can focus on. From funny posters with vintage styles, Scooby Doo allusions, and even framed articles decrying the uses of marijuana, there's a lot to offer for humorous decor.
There's a great deal to choose from in the way of cannabis leaf decor: pillows, clocks, plushies, and even fake cannabis plants. A garden gnome in a state of meditative euphoria can set a particular mood for your room, as can interesting rugs with marijuana-related prints, Cheech and Chong merch, and ashtrays in a variety of styles, sizes, and interests. Your oasis should be a place for your weirdness to shine, so take your decorating not-so-seriously.
Cannabis Wall Art with Feeling
You can choose a moody color scheme, furnish your stoner room with plush chairs, and hang the most stunning drapes. Just don't miss the prime opportunity to express yourself – your walls. The art you select speaks volumes about you. Consider whether you want it to whisper quietly about relaxation and nirvana, scream loudly about cannabis science, or somewhere in between.

If your style is more scientific, you could opt for a deep dive into the structure of cannabis itself. Or, consider a cannabis-inspired take on another culture's artistic style. Whether you enjoy retro art pieces, botanical-inspired wall hangings, or traditional cannabis posters, there are pieces to suit every taste.
Don't forget – wall art can include a variety of décor items, from prints to larger tapestries and wall hangings. Just be sure to hang what makes you feel the most transcendent and fulfilled in your haven. While you can easily purchase and find mass-produced art pieces like common mandalas and cannabis-themed posters in retail chain shops, selecting handmade art from working artists is not only good for the art community, but it makes your room more personal. No matter what, your wall art should be personal to you. Find whatever speaks to you. Art is very personal, and your cannabis oasis is too.
Lighting for 420 Design
Lighting is the final necessity you need to customize your cannabis-inspired room. However, don't forget that diverse kinds of lighting can convey different moods and even different emotions in a space. For example, if you want to ensure you'll remain productive in your cannabis space, crisp, cool lighting will do the trick. This kind of lighting works to keep you focused and awake.
If you want to embrace the sensations of relaxation and calm so common in cannabis spaces, warm lighting is preferable. It's more soothing than cool lighting and helps to reduce eyestrain. Choose a warm light for the main light fixture, then highlighting with Edison bulbs lamps, warm fairy lights, salt lamps, and even candles can help to create an overall warm vibe for your cannabis oasis.
Finally, customized neon lighting can add an extra pop of color as well as dimension to your cannabis refuge. You can encourage nostalgia by choosing outlines of famous pieces of cannabis culture. Alternatively, choose a simple word or phrase that evokes the intent behind the design of your space.
Build the Ultimate Stoner Room with Our Decor Ideas
Creating a cannabis-inspired room that suits your needs is the most important part of all this planning and decorating. If you're uncertain about what color palettes and fabric types you prefer, create an eclectic mix of your favorites. With a little soul searching and the above dank decor tips, you can create the ultimate space for your cannabis activities.
Remember, the key to adding cannabis designs to your home or office space is to stick to your personal style and enhance it with a dank flair that reflects your personality and tastes. So grab your favorite strain, put on some chill tunes, and get to decorating your perfect cannabis-inspired space!
Remember, the key to adding cannabis designs to your home or office space is to stick to your personal style and enhance it with a dank flair that reflects your personality and tastes. So grab your favorite strain, put on some chill tunes, and get to decorating your perfect cannabis-inspired space!
P.S. If you like the Kitchen / Laundry Room Mats pictured above, you can pick them up on Amazon here.
Happy decorating, budz!