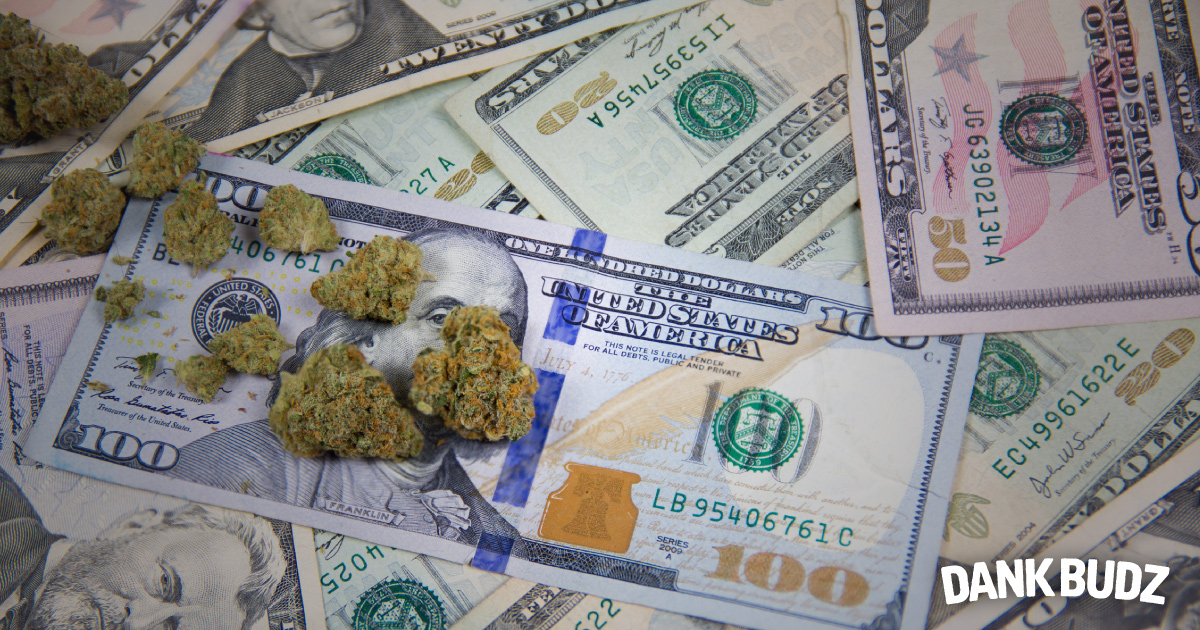 You're spending your hard earned money at the local dispensary and there is a certain brand of CBD oil that speaks to you or a specific company's weed that makes your day more mellow. And you start to think "Hey, I should invest in this company, their stuff is really good!" Well, you can. Quite a few of the cannabis companies are now on the Nasdaq and this is a really good time to invest in these marijuana stocks – while their prices are still relatively low. Who knows? One of your cannabis investments could become the next Apple stock! But where to start? What do you need to know? Here's what we've gleaned on how to invest in hemp and marijuana stocks.
Marijuana Finance
The first thing to do is research. Do your due diligence and find out as much as you can about the industry itself and where it's going. Next, look at the different sectors within the industry. Then look at the different companies that are out there. What about legalities? The political climate could change quickly. Cannabis financial investments are a little more complicated than just picking your favorite company and telling your stockbroker: "Buy it!" What about legalities? The political climate could change quickly.
Where is the Industry Going?
A Grandview Research report in 2016 estimated that the Compound Annual Growth Rate (CAGR) of the legal marijuana industry will be 24.9% through 2025, meaning that a currently $7.06 billion industry would burgeon to $32 billion worldwide by then. Medical marijuana would be the largest segment at $100 billion. Also, according to the report, marijuana buds would be the dominant type, valued at $82.9 billion by 2025. Things are looking good for the industry.
What Are The Different Sectors Of The Marijuana Industry?
According to Bloomberg, there are seven primary sectors within the cannabis industry, however the three major sectors are:
Marijuana growers – These companies cultivate marijuana, harvest the crops, and distribute the end products to customers.
Cannabis-focused biotechs – Otherwise known as pharmaceutical companies, they focus heavily on developing cannabinoid drugs.
Supply Providers  – These companies support marijuana growers by providing products and services such as fertilizers, hydroponics products and lighting systems.
Each sector has a certain risk involved, with the highest risk being with the growers, because their primary focus is on cultivation, and the lowest with the suppliers, because they are more diversified. The higher the risk, the higher the potential for growth and a larger return. Contrary-wise, the lower the risk, the lower the return will be.
What Is Out There?
Let's start with the cannabis stock indices. They are just like the Dow Jones and the S & P 500 indices. They give you a picture of how a group of stocks is doing without having to look at the individual stocks. There are three major indices:
Global Cannabis Stock Index (GCSI) – This one has been around since 2013 and has all the major players, 61 in all, including Canadian and Australian stocks (they must have a U.S. listing) and are required to have an average daily trading value over $600k and a minimum price of $0.25.
North American Marijuana Index (NAMI) – Started in January 2015, this index has two sub indexes – the U.S. Marijuana Index and the Canadian Marijuana Index, depending on which market is the prominent one, decides which index a company is in. The minimum inclusion requirements are market capitalization of $80 billion, average daily trading volume of $2 million and a minimum share price of $1.00. If a company has had  over $5 million in revenues the last five years, they are exempt from the requirements.
Green Market Report Index – The latest addition to the indices, this index inception was January 2018 and consists of 30 stocks selected based on market capitalization, revenue production, plus high standards of company operations. They focus solely on pure-play cannabis companies, in other words, ones whose main endeavor is cultivation and/or distribution.
In order to get an idea of the different stocks that are out there, following these indices gives a good snapshot of the group. Especially if your favorite company is in one of them!
Legal And Political Issues
We can do all the research we want, but if the feds decide to uphold the law and make cannabis illegal again, the whole industry would collapse and any investments would be forfeit. The Obama administration made it possible for marijuana to be legalized on a state level, however in January 2018, U.S. Attorney Jeff Sessions rescinded most of the policies that kept the federal government from intervening in states that had legalized marijuana. President Trump has since fired him and stated he would support states' rights to enforce their own marijuana laws without fear of federal interference. There is no guarantee that this legislation will become law and this decision could always change.
Another problem that the marijuana industry has had to deal with, is the current U.S. federal law that places severe restrictions on banks and financial institutions that deal with marijuana-related businesses. This means they cannot borrow money for their businesses or even have checking accounts.
Of course it also means that cash is used for every business transaction, creating a safety hazard for employees and owners alike. There is legislation that has been introduced now, written by Representative Ed Perlmutter (D-CO) called the SAFE (Secure and Fair Enforcement) Banking Act of 2019, that will mitigate some of these problems. Instead of bringing duffel bags full of currency to pay their quarterly revenue taxes or being unable to verify employment and income of their employees, the cannabis industry will be able to fully join the 21st century!
Hemp Investments 101
After wading through all the minutiae of the previous industry research, it's time to look at some of the companies that offer stocks and also some Exchange Traded Funds (ETF's). Before we wend our way through the stock offerings, please remember: the cannabis industry is volatile as it goes up and down within hours of each other and it's mostly penny stocks, which can come and go in a heartbeat. There are a few bigger and more established companies that have good offerings.
Stocks
The biggest marijuana stocks from the growers sector are Canopy Growth Corp. (CGC) and Cronos Group (CRON), both Canadian cannabis producers, as well as MedMen (MMEN), a large cannabis retailer and grower from California that has recently also started trading on the Canadian stock exchange. Others from Canada and the U.S. include Curaleaf  (CURLF) an over the counter stock, Aurora Cannabis (ACB), Tilray (TLRY), Aphria (APHA), and CannTrust (CTST).
Cannabis research is another big industry and the companies that offer stocks include GW Pharmaceuticals (GWPH) that makes cannabis derived anti-seizure medicines and Zynerba Pharmaceuticals (ZYNE) that is developing next generation transdermally deliverable cannabinoid therapeutics for rare and near rare diseases.
Hemp Stocks
Global Hemp Group, Inc (GBHPF) is an over the counter market offering from Canada with operations also in California. They provide industrial hemp products and have plans to develop a hemp based CBD oil. Hempco Food and Fiber (HEMP), another Canadian o-t-c market offering, is a major producer of hemp based foods and other products. They are planning to expand greatly this year into the next.
ETF's
Exchange Traded Funds (ETF's) are like money market funds but these are based on indices and their performance. Among them is ETFMG Alternative Harvest ETF, a fund that not only has growers as part of their portfolio but includes all companies related to the cannabis industry in order to have enough companies in the index. Companies that:
Cultivate cannabis, or participate in the legal production, marketing, or distribution of it for medical or non-medical purposes. (Legal Growers)
Create, market, or distribute prescription drugs that use cannabinoids as an active ingredient. (Pharma/Biotech)
Trade tobacco or produce tobacco products, including cigarettes, cigars, or electronic cigarettes. (Consumer Products)
Produce cigarette and cigar components, such as cigarette paper and filters. (Consumer Products)
Create, produce, and distribute fertilizers, plant foods, pesticides or growing equipment for cannabis or tobacco. (Supply Providers)
Although some of the holdings are not marijuana related, such as Philip Morris,who may have future dealings with cannabis companies,  and Scotts-Gro, although they do provide hydroponics and fertilizers to the industry, most of the portfolio, a whopping 41% is of the Canadian marijuana based industry.
Horizons Marijuana Life Sciences Index ETF (HMLSF) is an over the counter ETF with most of its portfolio full of companies with significant business activities in the marijuana industry. This one is traded on the Canadian stock exchange and is also the oldest fund with an excellent history of investment returns.
Horizons Junior Marijuana Growers Index ETF (HMJR.TO) is also on the Canadian stock exchange and fairly recently added.  Incepted in February 2018, it consists primarily of publicly listed small-cap companies in North America that are essentially involved in the cultivation, production and/or distribution of marijuana.
Redwoods Marijuana Opportunities Fund (MJJ.TO), another Canadian entry, is the first actively managed ETF and has quite a few cannabis-centric companies in its portfolio.
Final Words
Investing in the stock market is a risky business. You could make oodles or you could lose your shirt. Kind of like playing in Las Vegas. Here, at least, you can do research and make an informed decision. Learn all you can about cannabis financial investments, understand the volatility of the market, research the companies – there are a lot of smaller companies out there that may go places and become the next Google or Microsoft. But be willing to lose your investment – it has to be money that you are willing to throw away, not money you desperately need for rent or medicinal marijuana!
Most stock or fund buys should be considered long term investments, unless you are willing to sit on top of your stocks and buy and sell within hours or days of each other – a lot of penny stocks are like that and quite a few of the smaller cannabis companies only have penny stocks. This is one of the reasons most brokers and financial advisors will tell you to stick with small-cap or micro-cap stocks, if you're interested in coming in on the ground floor. They, at least, are not as volatile and are from more established companies that have decent revenues.