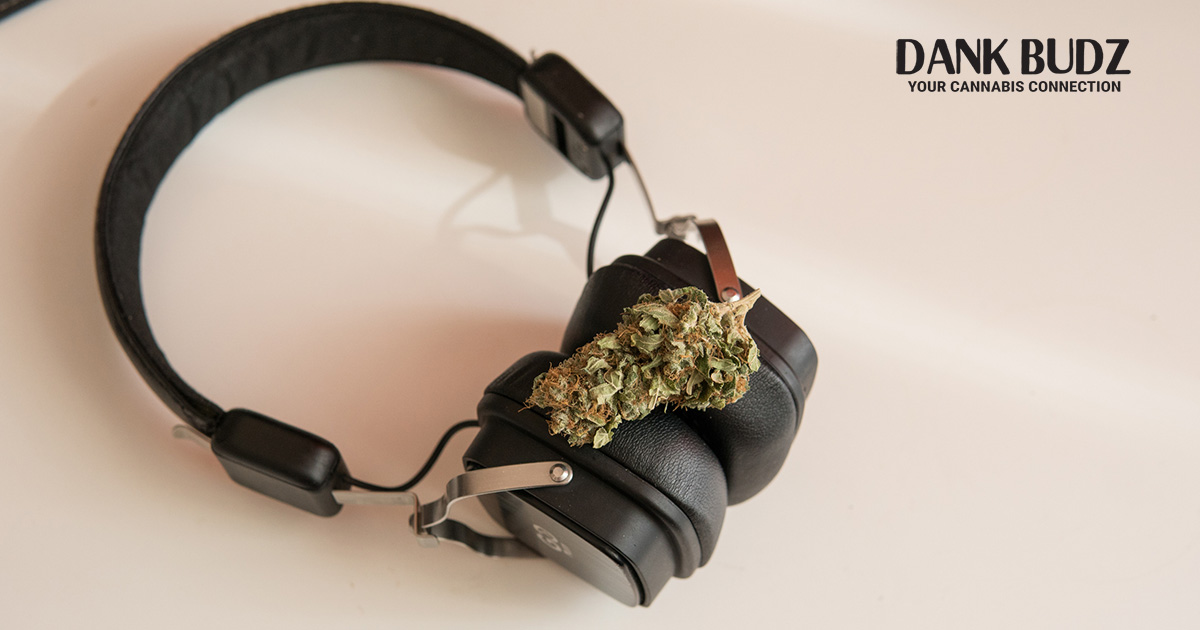 Music is something that can seemingly make any situation better. There's nothing quite like finding that perfect song, especially when you're smoking. From a sweet guitar solo you want to hear over and over again to that chorus that you can't get out of your head. Having a great playlist full of songs you love when it's time to light up is essential.
Your Stoner Playlist: 2022
That's why our team here at Dank Budz decided to gather some of our favorite songs to listen to while we have a session.
Here's a mix of some old, some new, and everything in between for a great smoking playlist.
1 "Redbone" by Childish Gambino
Inspired by psychedelic funk, "Redbone" by Childish Gambino is an amazing song to start off your smoke session. Childish Gambino is a well-known rapper and R&B artist that has proven his talent time and time again. With his insane vocal range and a deep bass carrying the song, you'll be moving your head in no time to this one. "Redbone" is a psychedelic R&B hit that will keep you coming back.
2. "Salad Days" by Mac DeMarco

"Salad Days" by Mac DeMarco is a stoner classic for our indie music, guitar-loving friends. While it's hard to lock his music into just one genre, DeMarco's style is often described as indie rock, psychedelic, lo-fi, and sometimes even "jangle pop."  "Salad Days" is an instant mood booster and the perfect song to throw on during a sunny day when it's time to light up.
3. "Feels Like We Only Go Backwards" by Tame Impala

Creating a sound so unique, Tame Impala has become widely known throughout the music community as one of the best psychedelic and alternative rock bands of the last decade. Using synths to create that special sound, Tame Impala's music is loved by stoners and music lovers alike. Evoking feelings of nostalgia while creating something your ears feel like they've never heard, "Feels Like We Only Go Backwards" is the perfect track to not only introduce you to Tame Impala but to have a great smoke session, too.
4. "Time" by Pink Floyd

What would a stoner playlist be without Pink Floyd? One of the most well-known psychedelic rock bands of all time, Pink Floyd has had their music added to every playlist imaginable over the past few decades. "Time" by Pink Floyd is one of our favorites, as it gets your head moving while you still get every aspect of those sweet guitars. Not to mention, it's a 7-minute song, giving you ample time to do what you need to do.
5. "Pursuit of Happiness" by Kid Cudi

One of his most popular tracks, "Pursuit of Happiness" by Kid Cudi, is the perfect mix between psychedelic-funk, R&B, and rap. With a beat driven by a piano and lyrics based on genuine feelings and thoughts, Kid Cudi created an iconic song in the late 2000's that's not going anywhere soon. If you're looking for a unique style in the hip-hop and R&B genres, Kid Cudi is for you.
6. "Hunnybee" by Unknown Mortal Orchestra

"Hunnybee" is another lo-fi, fun song with a unique sound. Similar to Tame Impala, Unknown Mortal Orchestra is known for their one-of-a-kind sound with pitched-up vocals and unparalleled tunes. One of the best parts about Unknown Mortal Orchestra is that every song of theirs you listen to will feel and sound immensely different. The song "Hunnybee" is the perfect introduction to the band and a great song for when it's time to light up.
7. "Age of Consent" by New Order

"Age of Consent" is another classic that always hits when you listen to it. Starting off with an unmatched guitar riff, "Age of Consent" by New Order will have you dancing with a smile on your face in seconds. New Order is a British rock band that branched off from Joy Division but still was able to keep that extraordinary sound. Sometimes referred to as alternative dance as well as alternative rock, New Order's music is great for smoking, dancing, and everything in between.
8. "Why'd You Only Call Me When You're High?" by the Arctic Monkeys

An alternative rock hit of the early 2010s, "Why'd You Only Call Me When You're High?" by the Arctic Monkeys, was a shoo-in for this playlist. Great guitar, great bass, and a groove that will have your head bobbing, this song evokes a lot of feeling and makes you want to learn guitar at the same time. The English rock band, the Arctic Monkeys, have created hit after hit, and this song just continues to prove that.
9. "Alien Blues" by Vundabar

While we're talking about great alternative rock songs to smoke to, "Alien Blues" is another song that deserves a mention. Vundabar is an extraordinary band with a special sound most rock bands can't quite meet. While they've been making music for years, their popularity has just recently taken off. The lead singer's voice met with insane guitar and drums makes for the perfect song to listen to when you're looking to headbang while you smoke.
10. "Buttercup" by Jack Stauber

If you're looking for upbeat, funky songs to add to your 420 playlist, "Buttercup" by Jack Stauber is just the song for you. With a mix between indie-pop, synth, electronic, and funk, Jack Stauber's music can be hard to pin to just one genre. His songs have a bouncy feel that is almost impossible to match. But one thing's for sure; your mood is only bound to get better when you're listening to "Buttercup" by Jack Stauber or any of his other music.
11. "Black Dog" by Led Zeppelin

Led Zeppelin has an incredible catalog of music. Their powerful, raw music has had a hold on people for generations. They have an electric style that's almost too perfect to listen to while smoking. While "Black Dog" is just one of their great hits, Led Zeppelin has a multitude of tunes that are perfect "stoner songs." That being said, "Black Dog" is one of our favorites to listen to while enjoying some cannabis.
12. "Here Comes the Sun" by the Beatles

The Beatles are a must-add to almost any playlist. Whether it's one of their classic hits like "Here Comes the Sun " or you decided to look deeper into their discography, the Beatles unparalleled music is always an amazing choice for a smoke session. We especially love "Here Comes the Sun" for the great mood it puts us in, especially on a sunny day.
13. "Kids" by Current Joys

"Kids" by Current Joys is a mellow, lo-fi alternative rock song that's perfect to throw on in the background of a session. It's not only one of the band's most popular songs, but it has the most amazing mellow vibe to enjoy whether you're at a party or you're alone. Sometimes with music, less is more, and Current Joys have proven that.
14. "15 Step" by Radiohead

Radiohead is a band that has always been unconventional. With their melancholic sound that somehow doesn't put you in a bad mood, Radiohead has created music that people love for a multitude of reasons. They are a great band to listen to when you want to feel something, as they express such raw emotion in their music. "15 Step" by Radiohead is the perfect encapsulation of their sound and is also a great addition to your playlist if you're searching for new music.
15. "Sober" by Childish Gambino

It only makes sense that we round out our playlist the same way we started it—with Childish Gambino. "Sober" is another funky, soul, alternative-rock hit that's bound to make your smoke session better. Released on one of his earlier EPs, "Sober" by Childish Gambino is an alternative hip-hop hit that will have you dancing with a joint in your hand. His work gives everyone something to think about.
The Best 420 Playlist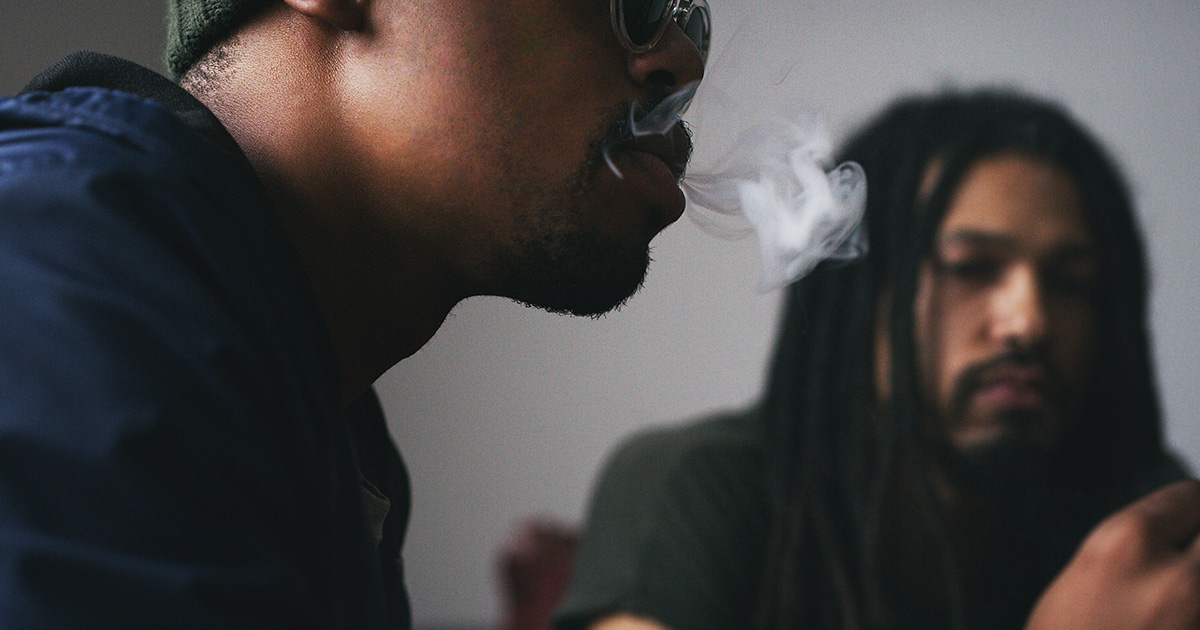 Ultimately the best playlist for you depends on your personal taste in music. We've shared with you an eclectic mix of music and lyrics to enhance your smoke sesh above. However, if you are looking for a more classic array of "stoner songs", this list is for you:
---
Rick James – Mary Jane
---
Bob Marley and the Wailers – Three Little Birds
---
Afroman – Because I Got High
---
Snoop Dogg & Wiz Khalifa – Young, Wild and Free ft. Bruno Mars
---
Cypress Hill – Hits from the Bong
---
Lil Wayne – I Get High
---
Ludacris – Blueberry Yum Yum (Smoke Weed Everyday)
---
Busta Rhymes – Get High Tonight
---
Kid Cudi – Day 'N' Nite
---
50 Cent – High All The Time
---
Tom Petty And The Heartbreakers – Mary Jane's Last Dance
---
Sublime – Smoke Two Joints
---
Dr. Dre – Kush ft. Snoop Dogg, Akon
---
Mac Miller – Self Care
---
Lana Del Rey – High by the Beach
---
Logic – Indica Badu ft. Wiz Khalifa
---
Slightly Stoopid – This Joint
---
Coolio – Rollin' With My Homies
---
Miguel – Sky Walker ft. Travis Scott


---

The Notorious B.I.G. – Juicy
---
Snoop Dogg – Gin and Juice
---
Outkast – ATLiens
---
Billy Bueffer – Stoner Thoughts
---
Neil Young – Roll Another Number (for the Road)
---
Echo Movement: I Think God Smokes Weed
---
Travis Scott – HIGHEST IN THE ROOM
---
Jimi Hendrix – Purple Haze
---
Lil Dicky – Too High
---
Black Sabbath – Sweet Leaf
---
Tove Lo – Habits (Stay High)
---
Uncle Kracker – Drift Away
---
Doja Cat – No Police
---
Dr. Dre – The Next Episode (Official Music Video) ft. Snoop Dogg, Kurupt, Nate Dogg
---
The Expendables – Bowl For Two
---
Ben Harper – Burn One Down
---
Cypress Hill – I Wanna Get High
---
Tyga – Hookah ft. Young Thug
---
Bone Thugs-N-Harmony – Weed Song
---
Wiz Khalifa – Still Blazin
---
OutKast – Crumblin' Erb
---
Bob Dylan – Rainy Day Women #12 and 35
---
Willie Nelson – Roll Me Up and Smoke Me When I Die
---
What's your favorite stoner song of all time? Did it make our list? Share in the comments with us. We want to add to our Stoner Road Trip Playlist, you know, for the next time we're rollin' with the homies…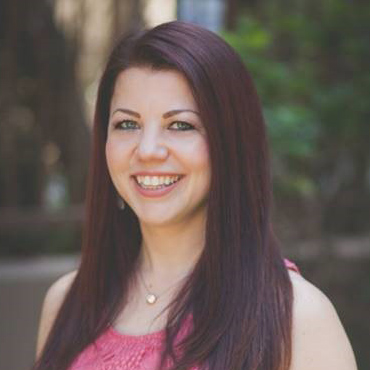 Jenny Weatherall is the co-owner and CEO of Eminent SEO, a design and marketing agency founded in 2009. She has worked in the industry since 2005, when she fell in love with digital marketing… and her now husband and partner, Chris. Together they have 6 children and 3 granddaughters.
Jenny has a passion for learning and sharing what she learns. She has researched, written and published hundreds of articles on a wide variety of topics, including: SEO, design, marketing, ethics, business management, sustainability, inclusion, behavioral health, wellness and work-life balance.